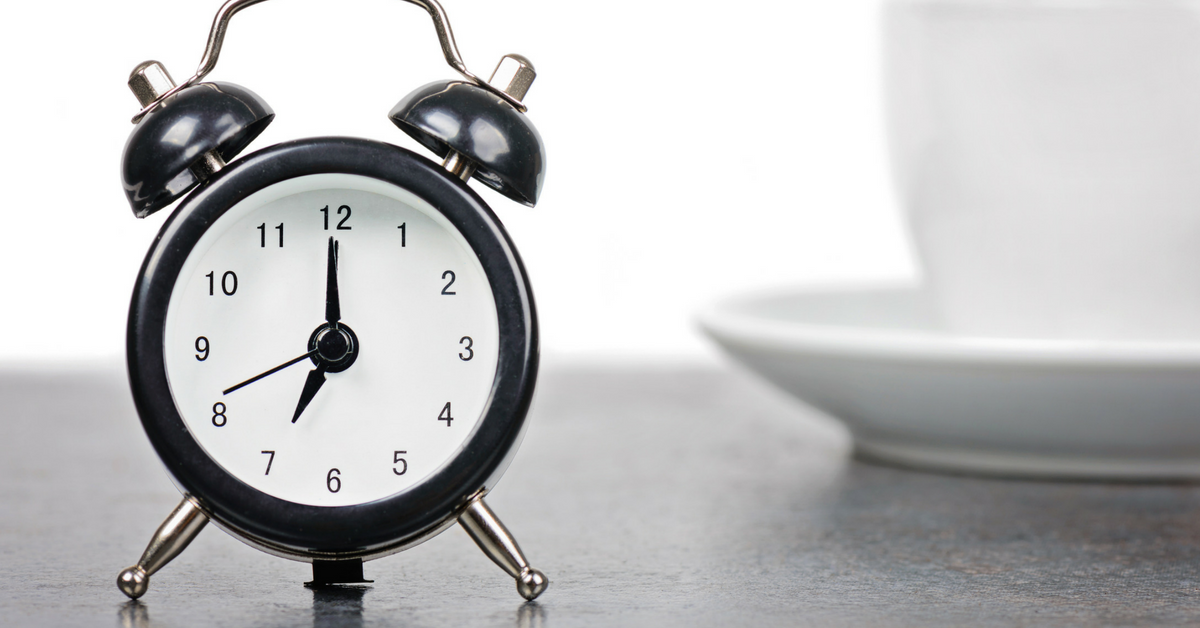 I recently received this great question from Elizabeth:
"How much time is necessary to grow a blog (and not at a snail's pace)? I work full time at a job I love, commute 2 hours per day, and have two young children. My husband often works on the opposite coast of the U.S., so I'm frequently left alone with the kids and don't have family to help out in the new town we just moved to.

We have some medical debt we would like paid off ASAP so I'm looking to bring in extra money. I'm currently getting up at 4:30 a.m. which allows me an hour to work on my side projects and I'm really trying to stick to 7 hours of sleep each night. My youngest is an early riser (often 5:45 a.m.!) unlike her older sister who is the better sleeper. Is it realistic to expect anything to result in a reasonable timeframe (I know better than to expect anything overnight) in only an hour of work in the morning before my daughter wakes up?"
This is a question that I get pretty frequently in one form or another, so I wanted to address this in a broader sense for those of you who are wondering how much time it really takes to build a blog.
You can invest as much or as little time as you'd like into building a successful blog, and there are all kinds of other factors that will contribute to how quickly you build your blog. Are you a fast or slow worker? A fast or slow learner? Do you have more time or money to spare?
If you only have a limited amount of time each week to dedicate to your blog and want to "cut some corners" to build your blog more quickly, here is what I'd recommend…
1. Purchase courses to help you get going.
If you have a full-time job or a really full schedule, I highly recommend buying some courses to help you out in the beginning — especially if you have more money than time to spare.
Investing a small amount of money in a course or two can cut out a lot of research time and effort for you and give you a great big head start on building your blog. It's amazing how much faster you can accomplish things if you have someone holding your hand, per se, and walking you through the process of setting up your blog.
If you're looking for courses to help you get started, we offer a number of hands-on courses that are just $37 each over at Your Blogging University. My goal is to create courses that are as affordable and accessible as possible, and that walk you through each step of the blog-building process — even if you have zero technical skills or know-how.
2. Pay for some of your blog set-up.
Again, if you have wiggle room in your budget and don't have a lot of time to spare, hiring someone to help you with your blog set-up could be a great use of your money. It'll save you so much time and headache, and you'll be up and ready to start blogging in record time — which makes this a fantastic return on your investment.
If you need help setting up your site and don't want to do it yourself, you can hire Blogelina to set it up for you for just $47. If you don't need a whole site design, you can look on freelance sites like Fiverr.com to find someone affordable who could help you design your header, set up your blog, or set up your e-mail newsletter. These are all individual tasks you could hire out in order to save hours and hours of time in the beginning.
3. Focus on the most important aspects of blogging.
Maybe you're like Elizabeth and you don't have a lot of time to invest in blogging each week? Never fear! I'm going to give you a formula for how to create a successful blog in just an hour per day.
But first, I need to remind you that you will need to stop comparing yourself to those bloggers who have 20 or 30 or even 40 hours to devote to blogging each week. You aren't going to be able to do all of the things they do — and that's okay!
I want you to focus on the most important aspects of blogging (which I outlined below). It might take you a little longer to grow your blog, but you can still make steady progress over time if you stay focused, use your time wisely, and focus on what is most important for you to be doing.
Only Have 7 Hours Per Week to Blog? Here's What to Focus On:
1. Get your blog set up. This will probably use up most of your time each week until your blog is live and ready to be used. If you're paying for help as mentioned above, however, you could spend these hours preparing content for your blog ahead of time.

2. Write one blog post per week. Once your blog is up and running, this should be your number one priority.

3. Pick one form of social media to focus on. Use this platform to promote your blog post, engage your audience, and build your brand. Talk about topics and areas that you're interested in blogging about so that people start looking at you as an expert in that area.

4. Create a Freemium. This is a compelling freebie that you'll offer to your audience when they sign up for your e-mail newsletter.

We talk more about this in our Build Your List course. We walk you through the kind of freemium to set up and how to set it up. We also show you how to set up a nurture campaign — which is one that will nurture your readers, get them excited about being on your list and following you, and gently fold them into your weekly newsletter.

5. Send out one e-mail newsletter per week. Make it personal, as if you're writing to a friend, but also deliver value to your audience. This is a chance to tell your followers what's going on in your life, share lots of great links, and tell them about your latest blog post. Your e-mail newsletter serves to build a relationship with your audience, and it should be prioritized on a weekly basis.
How to Prioritize Your 7 Hours Per Week
If you only have 7 hours per week, here's how I suggest you allocate your time:
Spend the first 3-4 hours per week writing and formatting your blog post.
Spend 1 hour on social media. (Use 10 minutes of this time to respond to comments and the rest of this time to schedule out at least 4-7 posts for the coming week — at least one that promotes your newest post, at least one that shares a picture of something going on in your life that relates to your blog, at least one that is a quote or link to someone else's article or post that relates to your blog topic, and at least one that promotes a post from your blog's archives. If possible, I also recommend a quick check on social media each day to respond to any new comments that have come in.)
Spend 1 hour writing and scheduling your email newsletter to go out. (Make sure to include a link to your newest post + link to any recent social media post that got some good engagement + include some interesting tidbits or links or encouragement that relates to your blog topic and would bring value o your readers.)
Allow 1 hour of buffer time. During this extra hour of buffer time, you might work on your freemium, research a new idea, slowly work through a course, learn a new skill, respond to emails, or plan ahead for the future.
If you have any extra time beyond this, I highly encourage you to invest that time in guest posting on other blogs. It's one of the best ways to build your audience and traffic — and it's completely free! Find other sites that are in line with the same kind of blog you have and offer to guest post for them. And don't forget to mention your freemium in your bio at the end of the guest post!
If you're serious about starting a successful blog, it's most important that you find pockets of time and commit to invest in your blog during that time without fail. (When my kids were younger and I didn't have much extra time, I spent every Saturday morning at the coffee shop for a few hours working on my blog. That time was invaluable to me!)
At this steady rate you won't start making money overnight, but within a year you could have a successful blog that is running, growing, and possibly even bringing in a part-time income!
Do you have any other suggestions for Elizabeth? Leave them in the comments below!