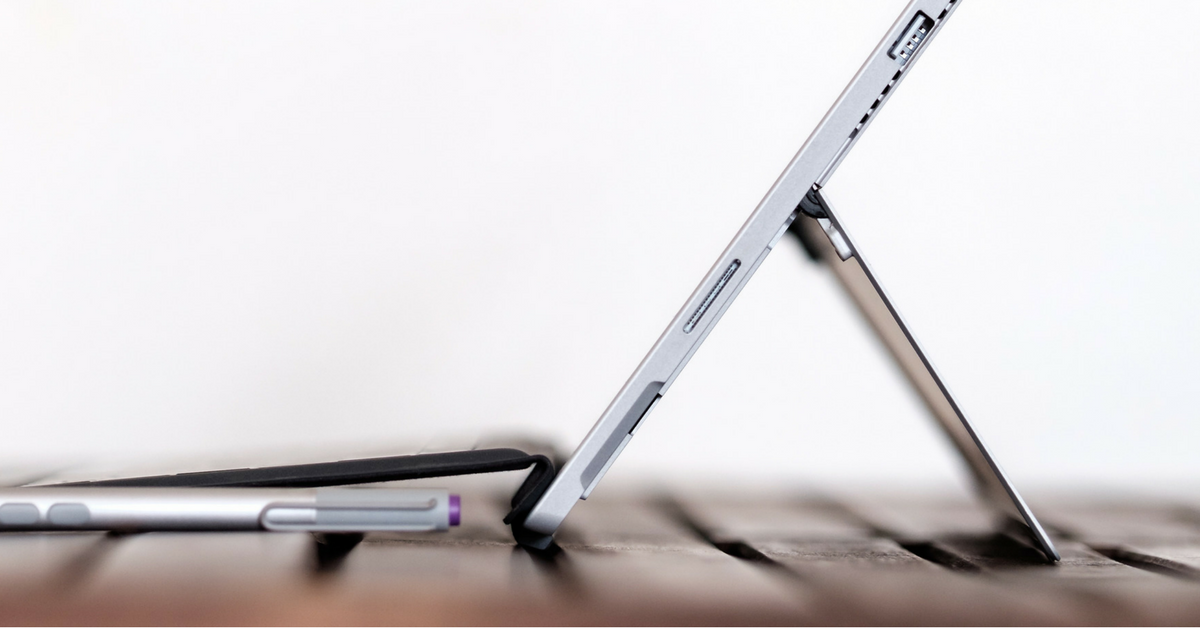 I've heard from a lot of bloggers over the years who say things like, "I just wish I could get more people to read my blog! I love blogging, but it's so discouraging when I work so hard and it feels like no one is reading!"
If you've ever felt this way, here are some practical ideas for ways to get more people to read your blog:
1. Produce consistent, quality content.
People visit a blog more often if they know they can count on it being updated regularly. Consistently commit to post at least once each week, if possible.
As I wrote in an earlier post:
If you want to do this blogging thing well, if you want to build a successful blog, if you want to make money blogging, you MUST be a consistent blogger.

Now, this does not mean that you need to put a post up at 8:01 EST a.m. every day like my amazing friend and virtual assistant, Andrea. (Though you are more than welcome to, if that kind of consistency is your thing!)

The consistency I'm referring to here is that you show up regularly. That people know they can count on you. That you treat blogging like you do a real job — because it totally can become that with consistency.

This might mean that you post an in-depth post every other week. Or, it might mean that you post every day. Or it something in-between or something entirely different.

But whatever you do, be consistent about it. Perseverance for the long haul is the key to success in blogging.
Need some in-depth help with creating engaging content for your readers? Enroll in our latest course, Content Creation 101!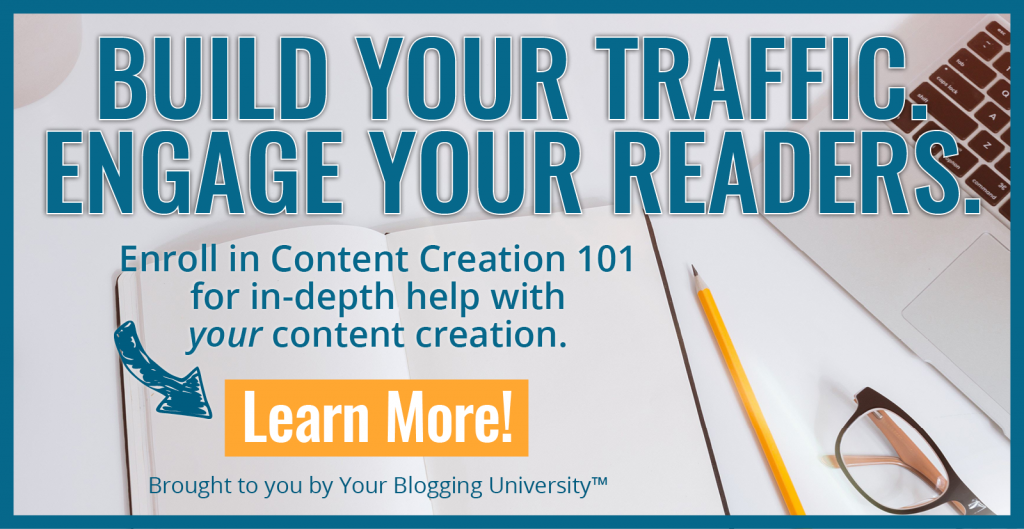 2. Make it very simple for people to subscribe.
If someone subscribes to your blog's feed or email newsletter, they are much more likely to remember about your blog on a regular basis. Plus, they are less likely to unsubscribe once they've taken the effort to sign up.
Even if they don't open up the email newsletter and read it regularly, just seeing a post or email from you in their inbox reminds them that you exist and they will think to tell their friends about your blog or occasionally hop over to your blog if they readily remember that you are out there!
Make it very obvious where and how to subscribe on your blog's sidebar and occasionally remind your readers of the ease and benefits of subscribing (giving a little something away as a reward for subscribing doesn't hurt, either!)
Need some ideas for freebies to give away to subscribers? Check out this free download: 20 Brilliant Opt-In Offers.
3. Find a need & fill it.
What need is your blog filling? When you find a need and are filling it, people are going to be attracted to you and are going to want to tell their friends about you — because you are meeting a very real need.
For instance, when I started MoneySavingMom.com, I started it because so many people were asking me how to save money on groceries. I couldn't find another blog out there that was matching the coupons with the sales, so I decided to start my own!
4. Comment on other blogs.
Leave interesting comments on other blogs. If people like your comment, they are very likely to click on your name and wander over to your blog.
Make sure your comment adds value to the discussion, though. Don't just say "great post!" and then leave your link. Comments that sound like an infomercial for your blog or that serve no purpose other than to try and get people to click over to your blog are not something bloggers or blog readers appreciate.
Amy has some great tips on how to effectively make use of your time when commenting on other blogs.
5. Write guest posts.
Many, many blogs (including my blog, MoneySavingMom.com!) readily accept well-written, relevant guest posts and it's one of the most effective ways to introduce your blog and your writing style to a new audience. As an added benefit, if the blog you guest post for has a lot of traffic and ranks high in search engines, having a link or two to your blog on that blog will increase your search engine rankings, too.
Make sure that your guest post is your absolute best work, is a great fit for the audience you are writing for, and is in line with what types of posts are on the blog you are guest posting for.
When you write your bio for the guest post, include some type of incredible freebie offer (see above) that will encourage people to go check out your site and sign up for your email list. You want to convert them from a one-time visitor to your site to a long-term raving fan!
6. Use hashtags on Instagram.
I adore Instagram and I think it's a fantastic way to grow your online presence, connect with potential readers, and reach people who would otherwise never find you.
In addition to posting great photos and good captions, be sure to use hashtags on Instagram. They are the way that people find you on Instagram! People click on the hashtags that they are interested in and then they find other Instagrammers through that. (Read this article here for more tips on using hashtags on Instagram.)
The thing I love about Instagram is that it not only is a great way for people to discover your blog, it's also a fantastic way to build deep relationships with followers. Instagram is a much more personal form of social media and I've found that the people who follow me there feel much more connected to me than those who just follow me by reading my blog posts.
Psst! Are you following Your Blogging Mentor on Instagram? If not, what are you waiting for? Follow me here for blogging tips, tricks, and insider encouragement every week day.
7. Try live video.
Okay, okay. I know it's scary! But I can attest to the fact that live video has been one of the most effective marketing tools I've ever used.
There are multiple live video platforms out there now with Facebook Live being the most popular. I love Facebook Live because you can link directly to products and resources and affiliate links in the video header. You can also respond directly to comments and answer questions/leave links after the video is finished. Plus, you can re-purpose video content on YouTube really easily. (There are some great tips in this article for better Facebook Live broadcasts.)
However, I've found that people who follow me on Periscope — even though it's a smaller crowd — are much more engaged. I also recommend trying out Instastories on Instagram as it's a great way to connect more personally with your audience.
8. Link liberally to other bloggers.
Want to know one way to have people find your blog? Link to their blog!
Most bloggers track their stats and incoming links and will click over to see if someone has linked to them. They might just end up linking back to you if they like what they see.
Now, I'm not advocating a "you scratch my back, I'll scratch yours" sort of mentality here, but I know that some bloggers are so scared they might lose traffic if they link to another blog. I've found the exact opposite to be true.
If you find a great blog or blog post that you think your readers would love, share it on your blog or on social media! Don't keep a good thing to yourself.
9. Network with other bloggers.
Back when I first starting blogging, if you blogged semi-consistently and were even remotely interesting,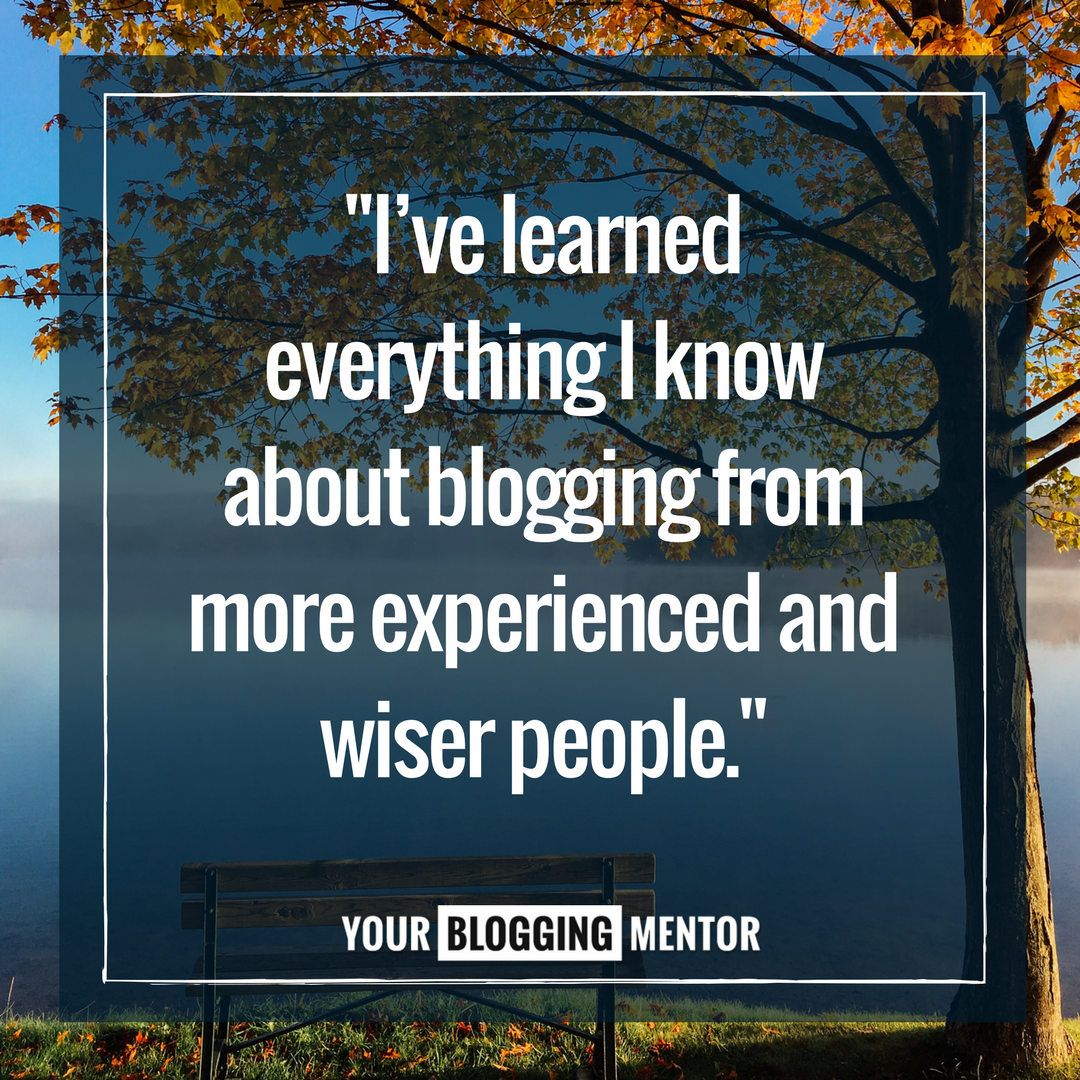 you had no problem getting readers. Nowadays, there are so many more blogs and it's a lot harder to build your readership.
One of the key components is to network with other bloggers. I've learned everything I know about blogging from more experienced and wiser people. They've given me counsel, they've taught me things I would have never figured out on my own, they've encouraged me with I was feeling burnt out or discouraged and they've challenged me to better myself as a blogger and writer.
Find bloggers you can connect with (either online or in your local area) to bounce ideas off of, to keep each other accountable and to share new things you're learning or experimenting. These friendships can be invaluable — and it's also nice to spend time with people who "get" what this whole blogging thing is about!
Partner with other bloggers to create series, team up with other bloggers to raise awareness about issues you care about, guest post on each other's blogs, and share each other's articles on social media. Always be looking for ways to join forces with other bloggers in a way that will benefit your readers — and theirs, as well.
10. Create a community.
Finally, if you want to build your readership, you need to be there for your readers. Don't just write a post and then disappear and let readers talk amongst themselves in the comments.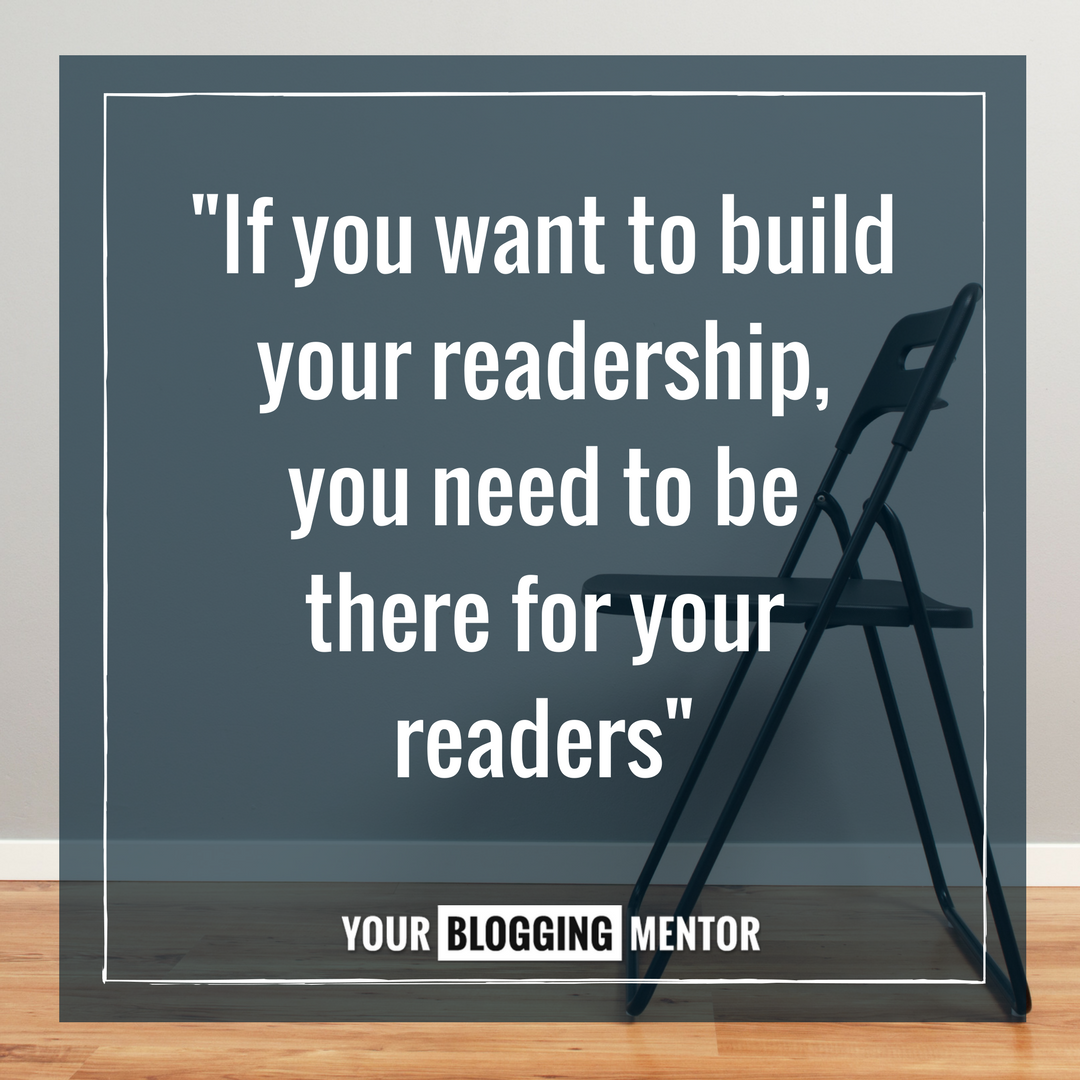 Respond to questions asked and interact with your readers on a regular basis. In fact, when you are first starting out, you might to try to respond to all comments people leave on your blog. It encourages people to stick around and it makes them feel a part of a community.
Even if you can't respond to every comment, whatever you do, don't just show up to respond to negative commentors. As Jon Acuff says, "If you only respond to jerks on your blog, eventually you'll create a blog that only jerks read."
It's totally okay to explain yourself to those who misunderstood your post or are offended, but it's much more important to respond to the faithful, encouraging commentors. They care much more deeply about you than a fly-by-night nasty anonymous commentor ever does. In addition, listen to your readers: ask for their advice, welcome their input and let them know how much you appreciate them.
A Word of Caution

People always ask me, "How do you do it all?" I think the important thing to remember is that I've slowly added new things — Facebook, Twitter, Pinterest, Instagram, an email newsletter, etc.

If I had tried to set it all up all at once, I would have been completely overwhelmed. Pace yourself when setting up a blog. Challenge yourself to try new things little by little, don't go and implement all these ten things at once. Pick one or two to focus on for the next few months.

Set goals for each month, break these goals down into weekly goals and then work on them for 10 or 15 minutes each day. Over time, it will likely start to become old hat and you can add new goals and experiment with new ideas.

However, remember to compare yourself with yourself only. There will always be another blogger doing a better job of this or that or the other.

Don't let it discourage you. Look at the progress you are making towards your goals — even if it seems very slow and minuscule — and be encouraged by that.
What are YOUR best tips for getting more people to read your blog? I'd love to hear!