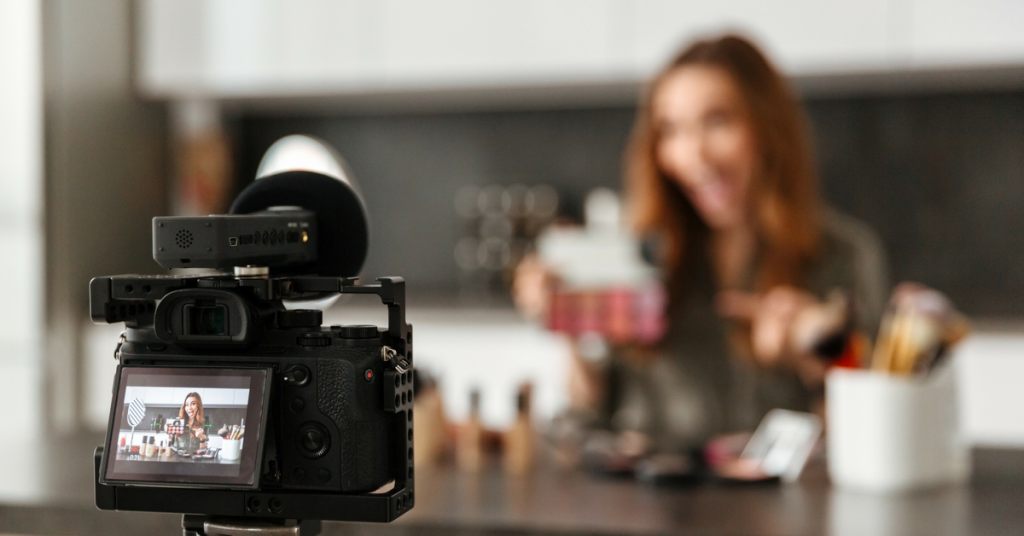 "I wish I could be as comfortable on camera as you!"  
This has been said to me over and over again in recent months.
You guys, I need let you in on something… something that might surprise you quite a bit: I WAS TERRIFIED OF LIVE VIDEO when I first started.
(And yes, I'm using all caps. But that statement deserves all caps! Some people are terrified of snakes or spiders or tornadoes… Me? I would have chosen to kill a snack or spider or live through a tornado over going live on video any day!)
I Avoided Anything LIVE for Years
I avoided anything to do with live for years. Live presentations, live TV, live radio, live video… if it didn't have an edit button, I was OUT.
I turned down lots of opportunities because of this fear. And I let it hold me back.
But, slowly ever so slowly, I decided to punch fear in the face and started getting brave and doing things like public speaking, despite the fact that it made me ill for weeks in advance. The more I did it, the less it freaked me out and the more comfortable I got with it.
I was still scared, but I had moved from the vomiting-inducing terror level to just being shaky and having a pit in my stomach.
Talk about progress! 🙂
So, with this newfound confidence, I ventured into a completely new territory… live video!
It feels like a lifetime ago, but it was actually only a few years ago (live video hasn't been around that long, after all!)
I Worked Up the Courage to Go Live
After watching some various online entrepreneurs use live video so effectively, I challenged myself to get brave and hit the "go live" button
Now, I need you to know that this wasn't just a decision I made one day on a whim.
Oh no! Trust me, I'm not that brave at all. In reality, it took me a full month of watching other live videos to work up my courage to actually go live myself.
And when I finally did work up the courage, my hands were shaking, I was a nervous wreck internally, and I was super uncomfortable the entire time I was live.
I Committed to Do It Every Week Day for a Month
But I had made a commitment to stick with it for 4 weeks and, so that I wouldn't chicken out (!), I publicly told people I would go live every single weekday morning for a month.
It's a good thing I had made that commitment, because, let me tell you, I sure wanted to chicken out!
Just like anything in life, live video takes practice to get comfortable with. But unlike many things in life, when you practice live video, you're practicing in front of a LIVE audience! And that's quite scary!
I Stuck With It — And I Couldn't Believe What Happened!
But I did it… I stuck with my one-month commitment to go live every weekday morning. And I'm so glad that I did, because something big happened that month.
I started getting emails from longtime readers saying things like, "I've read your blog for 8 years and I've never connected with you like I have in the past three weeks I've been watching your live videos."
OR, "I always felt like you were so perfect and I could never be like you. But then I started watching your live videos and I realized that you're just like me! I love you so much!"
And on and on the emails started pouring in.
I'm Still in Shock at How Effective Live Video Is
Not only were the emails pouring in, but we started noticing a marked uptick in our engagement online and in our sales. When I would promote something on live video — be that a deal or one of my own products that was launching or just a link — people were responding to those types of things in droves and begging for more!
I felt like I uncovered this goldmine of possibilities for connecting with my readers in a way I never though would be possible! And, as I continued to go live, I've slowly fallen in love with the live video medium.
I love it not just because it's so easy to produce content (and I can often then re-use this same content for YouTube videos or other posts!), but mostly because it's been one of the most effective tools ever to fostering deep trust and relationship with my audience.
Here are some of the ways live video has impacted our business:
Live video gave me a way to connect with my readers in a deeply personal way. I could interact with them LIVE — almost as if we were having coffee together! They could see my face and I could see their comments and responses in real-time.
Live video allowed my readers to develop deeper trust with me. Reading words in a blog post will never have the same impact as hearing someone say the words to you in real time where you can see them and hear them. When people trust you, they are much more likely to continue to show up and listen to what you have to say.
Live video offered the ability for my readers to see me as a real person. Ever since I've started doing live video, I've gotten a significantly higher number of emails from people who are writing in as if they know me personally. And they will often say that they truly feel that they do — because of my live videos.
Live video gives your readers a more personal peek into your real life. You can't be perfect on live video because there is no edit button, no Photoshop option, and no deleting. It's real and raw and live. And people love this!
My readers have seen me sneeze on camera, have bad hair days, and realize on live video that I forgot to finish doing my makeup.
They've seen my kids come in and interrupt me.
They get to see different parts of my home — even parts that are messy or far from perfect.
They've seen me have recipe flops and embarrassing moments — and they eat it up! Because real life is not perfectly curated blog posts!
This is the power of live video. It takes someone from feeling like a bystander to a friend. And when your followers aren't just followers, but are friends, the trust you have is on a completely different level than you'd ever have if they just read your words on a page.
This is why I'm such a huge proponent of live video and why I feel like every single person who does anything on the internet (be it blogging or Instagram or an online business or even an offline business) should be using the medium of live video.
Have you hit the "go live" button yet? If not, why not?