Are you wondering how to collaborate with other bloggers and influencers? Read this for eight easy ideas you can implement pretty easily and quickly!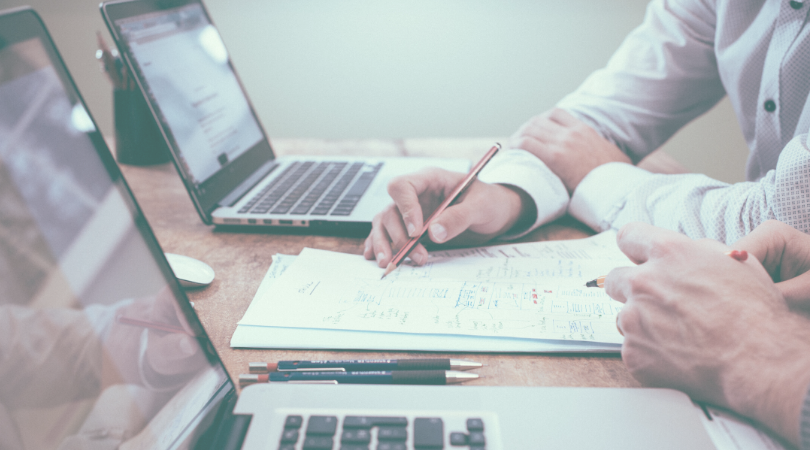 I recently received this great question from Your Blogging Mastermind member Jaimi Stewart:
"I'd like new/fresh ideas on how to collaborate with bloggers and influencers. You recently mentioned a blog party idea in the last live coaching session, and now I'm curious if there are other new ways of linking arms with fellow creatives!"
Right now in the middle of this pandemic, it's a really fantastic time to try collaborating with other people! A lot of us have extra time on our hands and there are many people searching for specific topics and resources online.
When you collaborate with other bloggers, you have the ability to expand your traffic, reach, relationships, and online presence.
And it's not that hard to do! Here are some ideas to get started:
1. Host an Instagram giveaway with another Instagram friend.
This is a really simple way to collaborate with another influencer!
Get together with another Instagram friend — preferably someone you've already built a relationship with and who has a similar number of followers as you — and decide to host a joint giveaway on Instagram. Here's an example of a recent one I did.
Determine what you'll give away. (Typically gift cards do really well, because everyone can benefit from them and they're easy to mail or send electronically.) The value of the giveaway will depend on how many followers you have.
Once you've decided these things, you and your Instagram friend can simply post about the giveaway at the same time on the same day. Tell your followers that in order to enter the giveaway, they have to follow both of you and leave a comment tagging someone else.
And then don't forget to promote the giveaway on Instagram Stories, your Facebook page, and even in your email newsletter. Get it out there to a lot of people and you'll probably see really great results from it!
I've only done this a couple times but when I do it, I typically get between 1000 to 1500 new followers by doing this! (And obviously this is scaled to the amount of followers I already have, but you can see the impact it has!)
2. Invite other bloggers to join you on a joint FB Live or IG Live.
If you're doing a daily show or hopping on live video a lot, this is a really great time to invite other people to join you!
Interviewing someone else on live video can be really fun, make things more interesting, and introduce your audience to new people. It gives your followers something different to look forward to.
And typically, the person you invite will also share that live video with their audience — resulting in new visitors to your social media channel!
3. Tag people in posts on Instagram.
If you make a recipe, use a printable, or get an idea from another influencer, be sure to tag them in your Instagram post or on Instagram Stories!
Often times, when you do this, that influencer will re-share your post in their Instagram Stories — which results in new visitors to your Instagram account!
People tag me all the time if they get a recipe from my site or use a tip I shared. And I re-share a couple of these almost every day!
4. Let other people guest post on your site.
I love guest posting, because it's a win-win!
It gives guest posters a chance to get their content and name out there to a new audience.
And it opens up your platform to other people and provides great content for your site and your readers — a lot of time on topics you'd never be able to write about.
Often times, guest posters will share their article with their audience, too! If someone takes the time to write a guest post, they're most likely going to share it with their followers!
This is a great way to build relationships and collaborate with other bloggers.
5. Partner up with another blogger to do a series.
There are a lot of different ways you can do this!
First of all, this can be done in the form of blog posts, Instagram posts, FB Live, or Instagram Stories.
And then you can choose to either switch off every other day on various topics or you can both post every day.
Either way, be sure to link to or tag one another on every post or video, since you're partnering up on the series! This encourages your followers to visit each other's sites or social media channels.
The topic ideas are endless for this one: activities for kids at home, freezer meals, menu plans, home organization tips, decluttering projects, reasons to be grateful, outfit inspiration, etc.
I did this a lot in the beginning days of blogging, and it was always very successful!
6. Link arms with an Instagram friend and share about each other in Stories.
If you have a friend who you have a lot of synergy with, talk to them about the possibility of sharing about each other on Instagram Stories.
Simple commit to share about and tag each other on Instagram Stories. Recommend your friend to your audience, and have them to do the same for you.
This is more beneficial than just about anything else, because it's a personal recommendation that your audience is trusting. The audience will go check out your friend's account just because they trust you. And hopefully your friend's audience will do the same!
7. Partner with a blogger in cross-promoting each other in your email newsletters.
If you have a blogger who you've built a relationship with, maybe you could both decide to cross-promote each other in your email newsletters from time to time.
Maybe you each share a blog post from the other person's site that you liked that week and tell your audience what you loved about it in your email. Or maybe you promote each other's freebies in your newsletters and help grow each other's email lists.
As I've talked about before, your email list is prime real estate — so this is an excellent way to team up with another blogger you trust.
8. Create a Facebook sharing group of bloggers.
I've done this with other bloggers in the past very successfully!
With this method, you create a group of bloggers and have a spreadsheet to list your best performing Facebook posts each week.
And then each person commits to share one post from each person in the group every single week.
It's really easy to do, because you can schedule them all out at once for the week.
And it's a win-win because you're receiving great content to share with your audience that's already proven to do well on other people's pages. And then you're getting your content out to other Facebook audiences, as well!
These are just a few of my favorite ideas and ones that have worked well for me in the past. I'm sure there are lots of other great methods!
Do you have any other ideas on how to collaborate with bloggers and influencers? I'd love to hear!