Wondering how to use Pinterest for your blog or business effectively? Check out these 10 Pinterest strategies that are really effective right now!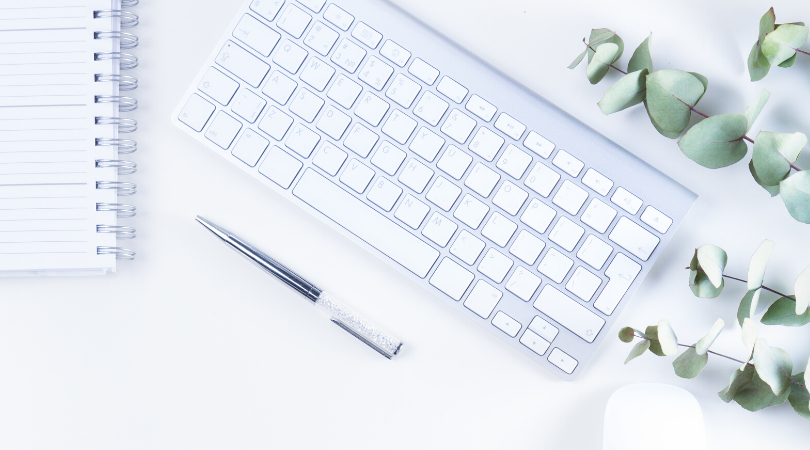 Guest post from Maura of HappyDealHappyDay.com
I've heard from many other bloggers that Pinterest is their number one referral for traffic, and it's true for me as well. 
But just like any platform that gives you traffic outside of your blog itself, there are things about Pinterest that you cannot control. Pinterest is always changing and testing new things, which results in ebbs and flows in your traffic.
Things may be great for months, and then traffic suddenly increases or decreases and you don't always know exactly why.  While we can't control the constantly fluctuating algorithms, there are some best practices that I believe will help you stay ahead of the game on Pinterest! 
Even though many still call Pinterest a social media platform, it really isn't.  Pinterest is actually a visual search engine, and so to be successful in the long term on Pinterest, you have to start treating it as such.
Here are the top 10 Pinterest strategies I think everyone should be experimenting with right now…
1.  Stop pinning to underperforming group boards.
Group boards are a thing of the past. Once upon a time, they were the key to exploding your Pinterest traffic, but Pinterest caught on and no longer rewards group boards the way they used to.
With that in mind, I recommend purging your group boards down to just a handful of well-performing boards that are on brand with your business/blog.
How do you tell which group boards are underperforming? I suggest using Tailwind Analytics. Here's how:
Go to Profile Performance—>>>Board Insights.
Then click on the up/down arrow under the virality score. That will sort your boards from highest performers to lowest performers.
Scroll down to the bottom and check your virality and engagement scores.
If you see numbers below 7 for virality and numbers below .5 for engagement, I recommend getting off of that board and deleting it from your account entirely.
If you are nervous about deleting it entirely (because the "just in case you might need it in the future" feeling creeps up, you can just archive it and come back to it later if you want to test it again.)
Pro Tip: Keep in mind that large group boards may have very low numbers, but still may in fact be performing well for some of your pins. So if you see any of these virality or engagement statistics that are low, but you know you've seen one of your pins in the Pin Inspector category doing well on one of those boards, be sure to stay in that board and keep pinning to it!  You can also click on the title of that board in insights and you can see the stats of all of your pins to see how just your content is doing on that group board.  
Pinterest is moving away from having an emphasis toward group boards, but be sure to keep the ones that are still actually working for you.
As you go through your group boards and start deleting them, I recommend creating replacement personal boards for similar topics that you can start pinning to. Pinterest is really rewarding you pinning to your own boards right now.
For example, I recently left a group board titled "All Things Motherhood" and created a personal board titled "Parenting Tips" — a title that is more commonly searched on Pinterest and is therefore a much better board title. More on this below!
2. Create board titles and descriptions using guided search and the trends tool.
This is one of the most important Pinterest strategies right now because Pinterest is a search engine!
You should not be guessing at what your board titles should be.
Let's say you just left a group board named "Money Saving Thanksgiving Ideas" and you want a similar board of your own.
Try using different search terms in the Pinterest search bar to see what comes up. For example, I chose "Thanksgiving on a budget."

Then look at the guided search that pops up to get more ideas for keywords.
In this example, the keywords "Food, Hosting, Dinners, and Dollar Stores" popped up for me. So I would make my board title "Thanksgiving on a budget," but use as many as those other keywords in my board description
The keywords that show up are the ones that are most searched for in Pinterest — and you should use as many as you can that apply to your content to help it get found more often in search.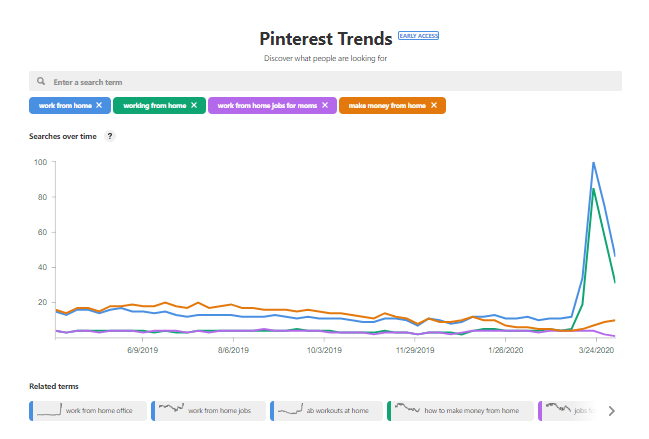 Another newer tool that Pinterest recently came out with is the trends tool. I use this each and every day to help me with my pin descriptions. 
Let's say you have a post on "work from home job ideas." Go to trends.pinterest.com and start typing in phrases related to work from home. You can see based on the graph that "work from home" and "working from home" are the best phrases to use. Be sure to fit one of them in as part of your title, and your pin is sure to be found more often in search!
3. Pin descriptions should be 1-2 sentences long, filled with keywords, and followed by a few hashtags.
The same guided search principles that you use for board titles apply when you are creating pin descriptions, too!
For your pin descriptions, make them 1-2 sentences long including keywords from guided search suggestions for the trends tool. Then follow that description with hashtags of the keywords you want to target. I mostly use the Pinterest Trends tool now to find hashtags.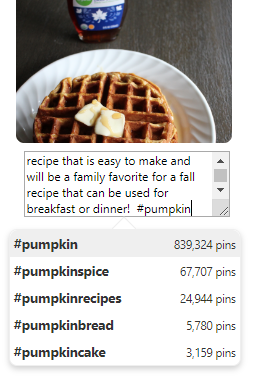 If you are wondering what hashtags are highly searched for, you can find them by using the Tailwind hashtag finder. If you have the Pinterest "Save" button set up on your blog images, then click on that. When you do, you can change the description of the pin. When you start typing in a hashtag, you'll see a dropdown menu that will auto-populate the most popular, related hashtags and how many other pins are using those hashtags. Use this for ideas on popular hashtags you can apply to your pin descriptions. (See my "pumpkin" example in the image above!) 
*Note that this feature only works on a phone or tablet and no longer works on desktop.
4. Get rid of hard to read fonts on your pins.
Pinterest has said that 80% of their users are on mobile. Check your account on your phone often and make sure your pins stand out and are easy to read.
The user experience is quite different between desktop and mobile, and you'll probably be surprised at how hard to read some of your pins are on mobile devices!
There are some really pretty scripty fonts, but if they're hard to read, people will just keep scrolling right past them on Pinterest because your title won't stand out.
Jump on your account right now and look through one of your top boards. Try to view it like a normal Pinterest user would and write down five of your pins that need updating with a fresh font that is easier to read.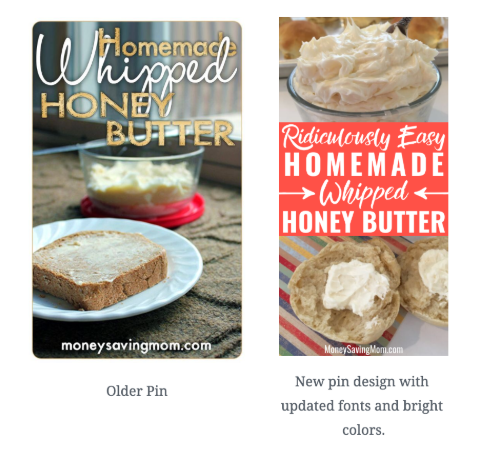 Also, take a look at the example above of the two different pins for "Homemade Whipped Honey Butter." The pin on the left is older, with a font that is skinny, covers itself, blends into the background, and is not easily read when you are quickly scrolling. Compare that to the newer pin on the right with brighter colors and bolder fonts. You want to be sure your pins stand out like the one does on the right.
Pro Tip: If you have old pins that you think are ugly and hard to read but still have more than 25 saves, they are worth keeping in your pin rotation and will probably always give you traffic, no matter how old or ugly you think they are now!

5. Create multiple pin images for the same URL.
Since early 2019, Pinterest has put some stricter limits on what they view as spammy pinning. It used to work as a traffic booster if you pinned the same pin to the same board in a very short period of time.
But those days are gone and Pinterest will no longer show your pins if they deem them as spammy — and there is no exact definition of what spammy means according to Pinterest's Community Guidelines. They say "repetitive" posts are considered spam, but we don't get an exact number of what is considered "repetitive."
The best way to get around this is to simply make multiple pin images for the same URL. That may sound like tons of work, but it doesn't have to be.
Check out some different varieties of pins above for one recipe on MoneySavingMom.com. You can re-arrange in-process photos and create different collages. You can also take many photos at different angles and as long as the image is different and the pin will not look like a duplicate pin to the Pinterest artificial intelligence, then you have a different or "fresh" pin. You can get free templates every month from Tailwind when you sign up to get The Perfect Pinterest Pins Toolkit. Using templates is a huge time saver when it comes to making multiple pin images for the same post!
Here is another example of "fresh pins" from Tailwind:
It's also a good idea to experiment with changing up titles and descriptions to target different sets of keywords that still go to the same URL. This is especially great with seasonal content. Simply look for evergreen content that a new seasonal image could be made for!
For example, find a recipe post on your blog that would work great for Christmas dinner, even though you originally wrote it as a recipe that can be eaten any time. Create a pin telling the reader that they should make this recipe for Christmas! This allows you to target a different set of keywords, reuse content you already have, and create multiple images that lead to the same URL.
If you look at the Biscuit Twist images above, there are five different pins for the same recipe – there are two "evergreen" pins, one for Easter, and two for Christmas. And notice that the two Christmas pins only differ in font color and slight image positions. You don't have to start from scratch when making new pins!
Update as of April 2020: Right now in the middle of a global crisis, it's a great idea to see what old content you have and can create new pins for — such as indoor activities for kids, how to balance owning a business and parenting, or homeschool ideas for the temporary homeschool mom. All of these topics are trending right now and would serve your audience well!
6. Use current Pinterest Trends for content inspiration.
These 100 Pinterest Trends of 2019 tell you what Pinterest users are looking and searching for. Take a look at this article and if you see something that is related to your niche, then jump on the opportunity to provide great content to a Pinterest user who is looking for that particular topic. If you have a piece of content that is related, add some of the related keywords to your post, pin title, and pin description. That can help you get found easier in search.
This is also a terrific resource to use if you are creating any gift guides this holiday season! You'll see that "Bamboo Bags" is up by 2215% in search — so maybe it's time to create a handbag gift guide and include some of your favorites made out of bamboo!
Be sure to also check out the monthly trending searches. You can sign up to get these straight in your inbox each month.
And as already mentioned, don't forget to look on the homepage of trends.pinterest.com to see other currently trending topics.
7. Join Tailwind tribes.
If you aren't already a Tailwind user, I highly recommend it! It is a huge time saver when it comes to scheduling your pins, it contains excellent analytics to see how your pins are performing, and you can set up loops for seasonal or top content that you want to regularly go out without having to think about it.  
Another bonus feature is using Tailwind Tribes, which is quickly becoming more and more important to be a part of. Alicia from Tailwind says that Tailwind Tribes are like "group boards on steroids." You will have to do some hunting to find a good tribe, but ask some of your blogging friends which tribes are working for them.
Some tribes will let you in no matter what, and some you have to request to join. Start with only a few and see if your stats change at all by using them. If not, then go on a hunt for more tribes until you find one that is mutually beneficial for both you and your tribemates.
Also, consider just making your own tribe with bloggers you already know. Everyone who is a Tailwind user gets to post 30 posts a month to tribes for free. You can also upgrade your account to be able to add hundreds of pins to your tribes each month.
8. Start creating video pins.
Pinterest is rolling out all sorts of new features when it comes to video pins.
They recently added a new section for "tags" when you create a video pin to better categorize what your video pin is about. Video analytics are slowly being released as its own category in Pinterest analytics. Also, if you search for something like "budget meal plan," you'll see that the very first pin that shows up is a video pin. If you click on "watch more movies," you'll see all of the video pins that Pinterest currently has video content for.
All of these changes are pointing to the fact that Pinterest is starting to greatly reward video pins. If Pinterest is putting forth this much effort to create new features just for video pins, then we should give them what they want and start making video content!
And because video pins are still fairly new, there is not a ton of competition right now to get your video pins found in search! It's the perfect time to start adding these to your Pinterest rotation.
Videos are very eye-catching when you are scrolling, and can really increase your impressions -– and because of this, I've found that video pins help my overall account get seen more often.
It may sound overwhelming to create video pins, but an easy tool to use is Lumen5.com, which creates videos out of the still images in a blog post. When you get familiar with how Lumen5 works, you can create a minute long video from a recipe or tutorial post in about 20-30 minutes. See an example of one of these video pins here.
When creating your video pin, be sure not to give everything away! You want the reader to have a reason to click over to your site.
This raspberry cheesecake recipe video pin does not give away specifics of the recipe, so an interested reader can save it and come back to the post later to get the full recipe details.
You can use Lumen5 for free right now to make 5 videos a month, as long as you have a slide up at the end of your video advertising for them. Otherwise, you can pay as low as $29 a month and create ad-free video pins.
9. Check regularly to see what people are pinning from your website.
When you go to pinterest.com/source/moneysavingmom.com, you will find pins that people have pinned from MoneySavingMom.com. Switch out the "moneysavingmom" part of this URL for your website domain, and you'll be able to see what other people are pinning from your site!
I recommend taking the time to re-pin a few of those to your applicable boards each day. This helps give momentum to pins that already have juice from other users pinning them!
You may also be surprised by what other people have pinned from your site. It's a great way to find older content that is still being pinned. And you may find that a lot of the images are actually in-process images for a recipe or craft that you never thought anybody would pin, but they're actually quite popular!
If you see that, put it back into rotation and create a new updated image to pin as well. Even though they aren't your "Pinterest Perfect" images, go ahead and re-pin them and you'll be surprised by what images will take off even when they aren't the ones you expected to do well.
This is a really great way to find content that you should be making more pins for, and I've found it to be one of the most effective Pinterest strategies right now!
10. Use the Tailwind SmartGuide!
In February 2020, Tailwind came out with a bunch of new features to help us follow Pinterest's best practices so that we can see the best results using their platform. They now say that pinning over 50 times a day can put your account at risk for spammy behavior by pinning too much. They also say that giving Pinterest new pins (I'd recommend at least one new pin a day) will help your account.
After about a month of making these changes, I have seen nothing but growth on the Pinterest accounts I manage and my own account! Even if you see an initial dip after making changes, give it more time and you should see growth!
The last thing to keep in mind is that Pinterest really wants quality over quantity right now. Ten gorgeous photos with keyword researched titles and descriptions will work way better for you than 100 so-so images with titles, descriptions, and hashtags that is all guesswork.
Bonus tip: Stop stressing over Pinterest's constantly changing algorithms.
Pinterest is always changing, and it makes it very hard to keep up with all the new and updated Pinterest strategies! And guess what? Sometimes Pinterest is simply testing something out that may not stick around forever. So we just need to take a deep breath, realize that change is normal, and move on.
There is no "magic Pinterest formula" and every account is different.
Treat Pinterest as a search engine and create beautiful, easily readable images. Continue to focus on your long term strategy of using keywords in your text and pin descriptions that will get your content found when people are searching for it. If you focus on that, you're sure to start seeing your account grow — slowly, but surely!
Still want more help?

Psst! Crystal here! If you're feeling overwhelmed after reading this article and would love to have more personal one-on-one help, I highly recommend contacting Maura for a one-hour consultation!

She will help take some of the overwhelm out of all these Pinterest strategies, give you a customized suggested "to-do" list, and give you a place to start.

We've been using Maura this year to help with our Pinterest strategies, and she's taught us SO much! After a year or two of our Pinterest numbers continuing to plummet, we are finally seeing some momentum and change! It's really encouraging!!

You can email Maura at happydealhappyday@hotmail.com for inquiries and pricing options.
What other Pinterest strategies have you found to be effective? Let us know in the comments!