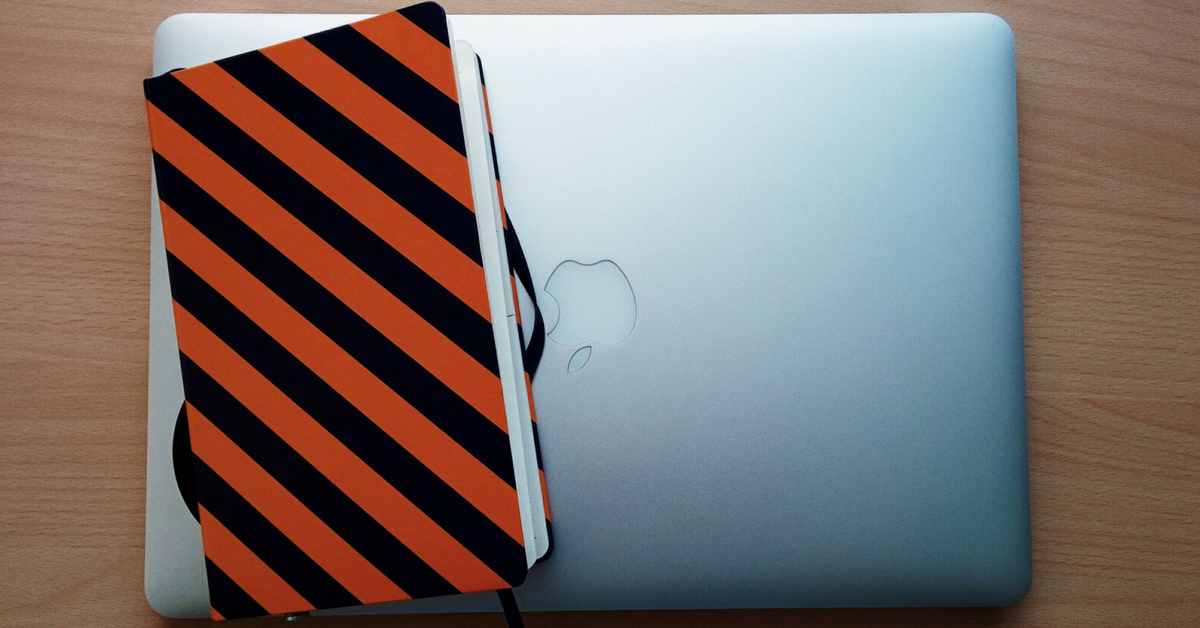 Recently, with the launch of my newest course, 5 Days to a Successful Blog Launch, I've received a lot of emails from new and aspiring bloggers asking me what, exactly, is needed to start a blog.
You might be surprised (and relieved!) to know that it's not a lot. 🙂 While my main blog, MoneySavingMom.com, is quite complex now, it didn't start out that way.
Starting a blog off with only a few necessary components will enable you to really put your time and effort into building your brand, your content, and your audience without having to worry about more complex marketing systems and complicated plugins upfront. And I'm all about keeping things as simple as possible!
To start off, here are the few things I recommend you start with in order to get your blog up, running, and ready for content:

1. Great Hosting
Choosing great hosting from the beginning will save you the headache of having to move your site to a new host too soon. I had to move MoneySavingMom.com to multiple different hosting sites as it quickly grew and it was a chore to do so!
Currently, our sites are hosted by Amazon. It's a fantastic host provider, and I highly recommend it for more advanced blogs, but the downside is that for the amount of hosting we need to accommodate our sites and to keep them running smoothly, it costs a few thousand dollars per month
For newer blogs just getting established, I recommend Bluehost. We have used them in the past with multiple smaller sites we've had and I've found their hosting deals to be very reasonable, they are very easy-to-use, they have 24/7 support, and they have the ability to grow with you as your blog grows.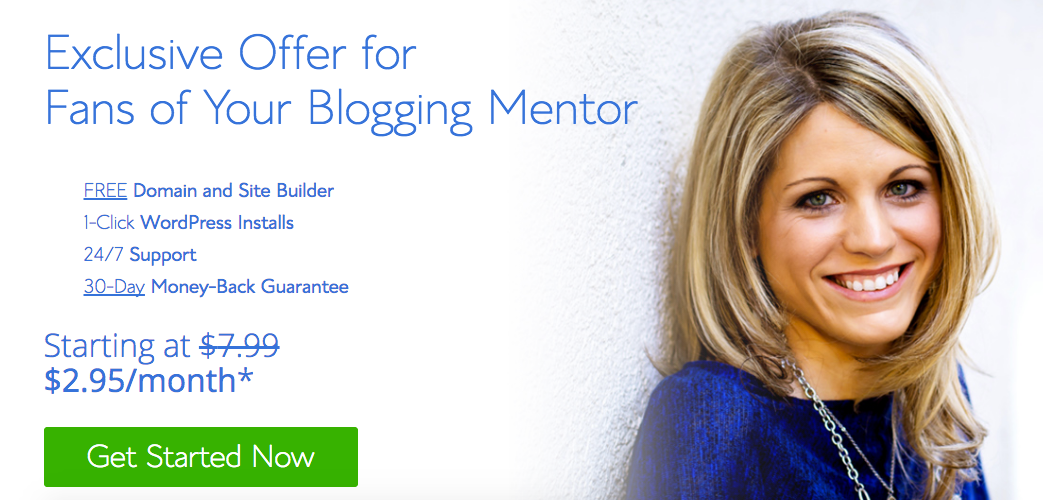 Note: This only applies to self-hosted sites using WordPress.org. WordPress.com is not recommended because they severely limit your ability to monetize your blog. WordPress.org allows you to choose your own hosting provider and enforces NO limits to how you can monetize your blog, thus giving you control over your ability to make money blogging!
2. An easy-to-use theme. 
Your theme is like the "outfit" of your website. It dictates how your site looks and functions. Choosing a great theme from the start that is easy to customize and easy to use will enable you to forego the need for a site designer (and save you lots of money!) by allowing you to update the look and function of your site yourself.
Great themes come with all the plugins (small pieces of software you add to your WordPress site that allow your site to do different things) you'll need in order to make the theme function. They usually come "IKEA style" where they'll give you the instructions and you put the theme together.
Here are two resources I recommend:
Restored 316 — Restored 316 makes beautiful feminine WordPress themes for bloggers, including eCommerce ready themes! They provide amazing support, easy-to-understand tutorials, and a wonderfully supportive Facebook community where you can ask questions and get ideas from other bloggers using Restored 316 themes. They have lots of themes to choose from, but here are a couple samples so you can see just how lovely their themes are:
Not sure which Restored 316 theme is right for you? Take their quiz here to find out!
Divi is a theme created by Elegant Themes, and is what we used to create Your Blogging University™. The visual drag and drop builder makes it very easy to edit your post content right on your site without having to mess with the WordPress editor. Also, they make it extremely easy to customize your theme look, change your colors, and basically build your own theme from scratch without having to know HTML or CSS. This is huge for those of us who really aren't techie and whose eyes glaze over when they think about having to learn HTML!).
3. A reliable email service provider. 
If your site has a functional host provider and a great looking theme, you're halfway there! Now, all you need to do (aside from publishing great content!) is to create an email list.
Your email list is one of the most important things for your site. Your subscribers are the most valuable readers you have. They are readers that have said, "I like your site! I want to hear more from you!" Don't ever take this for granted. It's an extremely valuable thing.
In order to create an email list so you can send out periodic newsletters (Yes, you need a newsletter!), you'll need a reliable email service provider (ESP). An ESP will house all of your subscriber emails; provide ways for your subscribers to join or "opt into" your email list; allow you to build, edit, and send your newsletters; and will enable you to customize your strategies and organize your subscribers in ways that are unique to your business.
Here are the two I recommend for new bloggers:
ConvertKit— Convert kit is definitely one of the easiest and most powerful email service providers out there. I absolutely love how easy they make it to organize your email subscribers so you can really strategize your email marketing. (Email marketing may seem like an intimidating term, but all it means is communicating what you're offering to your audience, whether it is valuable content, your own personal products, or products you promote for other entrepreneurs!) ConvertKit is a great option for new bloggers as it allows them to really grow their list without sacrificing functionality and email marketing power. It offers everything you need to manage your lists well.
MailChimp — MailChimp is one of the easiest and most affordable options for email list management. A lot of bloggers recommend starting out with MailChimp because it's so easy to use, yet still offers the functionality necessary to grow and organize your email list.
Note: Most email service providers provide ways for you to add forms to your site for people to subscribe to your email list. However, most of the time they aren't that nice looking and are limited to how you can brand them. If you want to really get into customizing your opt-in forms, I recommend PopupAlly Pro. This plugin allows you to connect your forms to your email service provider and customize them to match your theme. Their editor can feel a little complicated, but it can be a great option for those who want to spruce their opt-ins up. 
So that's it! Reliable hosting, an easy-to-use theme, and a great email service provider is all you really need to start a blog.
What You Don't Need to Start a Blog
Now that we've covered what I believe you do need, I thought it'd be fun to talk about what you don't need! Here's my list of things you don't need to pay for or worry about when you are first starting out:
An expensive site designer. While designers and developers can be an incredible asset, they come with a steep price tag. I recommend holding off on the more expensive designers for when your blog is more established and your blog income can justify the expense.

A lot of content. To start a blog, you don't actually need a lot of content already published on your site. A few finished posted published and a few drafts in the queue is all you need. Publish at least 3-5 posts ahead of time to let people have a feel for what they can expect on your blog and then make sure that you have at least the next 3-5 posts drafted and scheduled and a running list of ideas for the future. But don't stress over having to have 35 posts pre-scheduled before you start your blog!

Active profiles on ALL the social media sites. Nope! Start small. Managing a lot of social media profiles for a blog can quickly become overwhelming. Pace yourself and start with one or two social media pages for your blog. That's all you need. (I DO recommend setting up profiles from the get-go so that you go ahead and get your names held on each of the social media platforms for if and when you decide to use them. I didn't do this on a few of the social media platforms with MoneySavingMom.com and I've forever regretted it when someone else snatched up my name before I did!)

To do it ALL. Remember, don't compare yourself to other, more established bloggers. When I first started, I couldn't have imagined that MoneySavingMom.com would be where it is today. But I had to remember along the way to stop trying to cookie cutter other people's strategies. It took me years of learning, trial, and error to get where I am today with my blog. I'm still making mistakes and learning new things every single week. I still have a long ways to go and so many ideas that I hope to implement! But I have to constantly remind myself that I can't do it all. I just do the best I can do with the time and energy and capacity I have and then try not to stress about what I'm not doing or haven't done.
Do you want to start a blog, but you wish someone would hold your hand and walk you through the process of getting it launched? I want to help you! Check out my latest course, 5 Days to a Successful Blog Launch.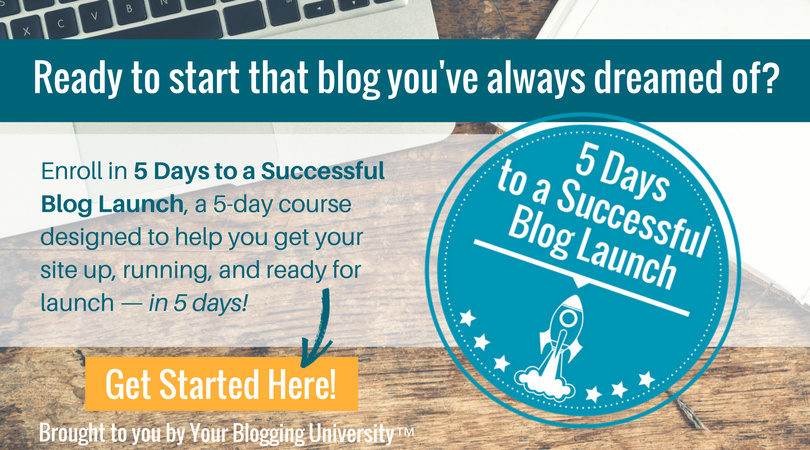 (Note: Some of the links in this post are affiliate links, and we will be compensated when you make a purchase by clicking through our links. Thank you for helping to support this blog!)