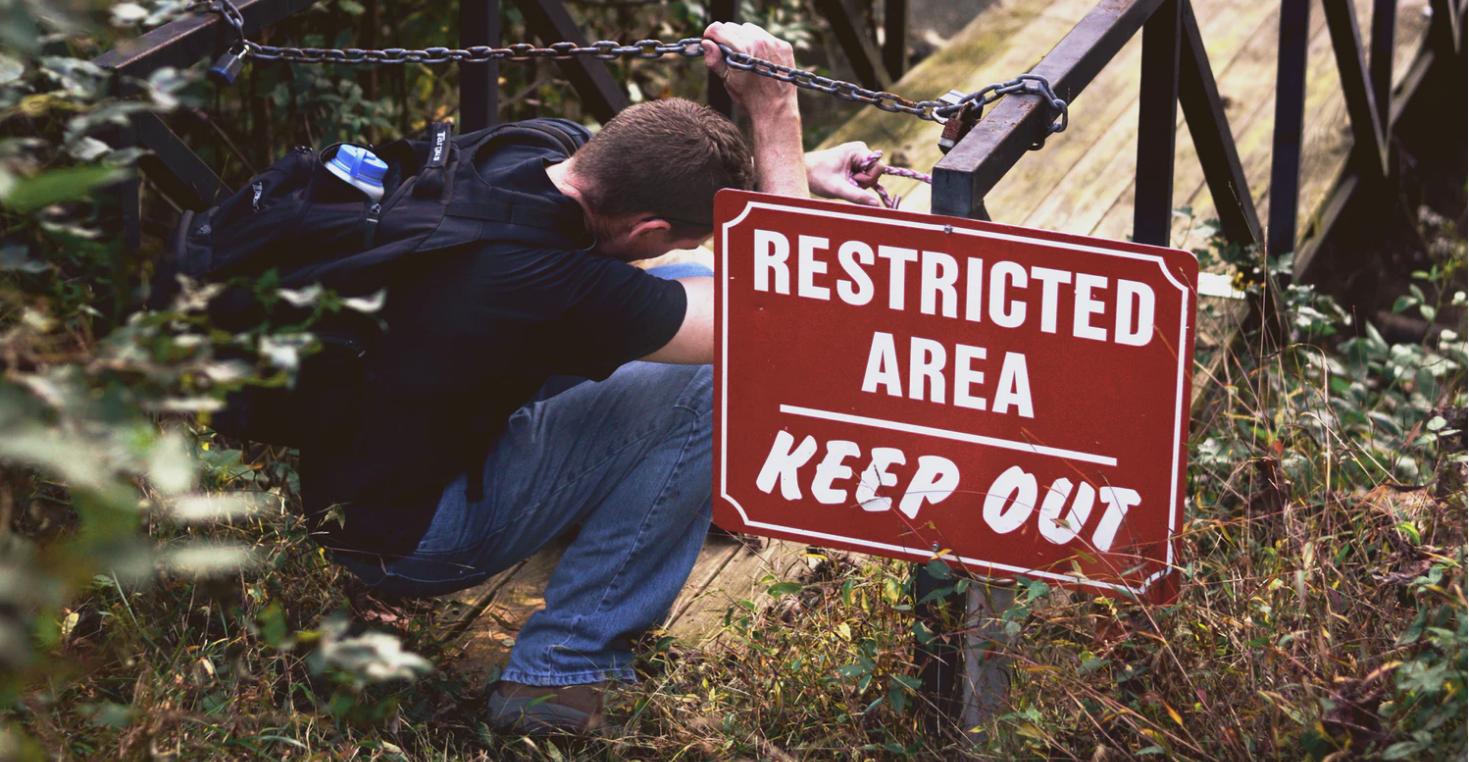 A friend emailed me distraught over what she should do as a blogger. She wants to write. She loves writing. But she was feeling so frustrated and stressed over all the stuff she felt like she "had" to be doing in order to keep up her blog.
She didn't want to have to devote most of her time online to updating Facebook, posting pictures to Instagram, interacting on Twitter, networking, writing guest posts, and trying to figure out new social networks.
She just wants to write and live her life. I get that.
While I love my community on Facebook, have met incredible people on Twitter, and really love Instagram, I'm not a rule-follower. I don't want to be chained to a blogging and social media schedule.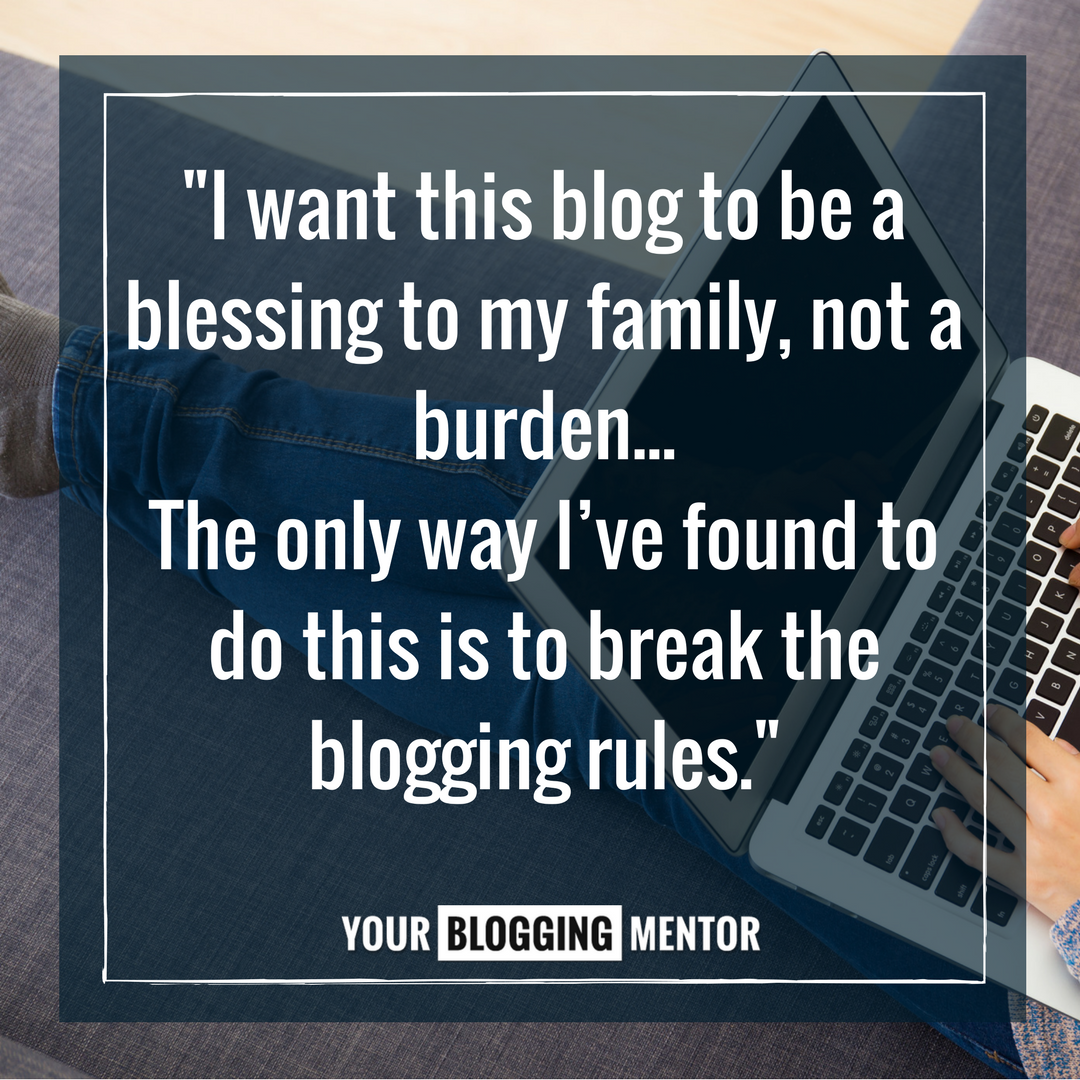 I want to live my life and write as I'm inspired. Because if I spend most of my time trying to crank out posts and feed the social media beast, I have no life. Just a blog that rules my life.
I want this blog to be a blessing to my family, not a burden. I want my blog to be an outpouring of my life instead of blogging to be my life.
The only way I've found to do this is to break the blogging rules. Seriously.
Chuck them out the window and find the freedom that comes from not being tethered to your laptop. It's a beautiful thing!
In place of the long held rules, here are two of my mantras that you are free to adopt:
1. You Don't Have to Do What the Experts Say
There are a thousand and one things you are "supposed" to do if you want to grow and monetize your blogging platform. These can be helpful. These can work well. And I am happy to pass along great ideas I've discovered on this blog. But you are in no way under any circumstances obligated to do them.
And you know what else? There's no stinkin' way you can do them all — unless you want to drive yourself crazy and have a physical breakdown.
I think it's easy to forget that the bloggers who blog often and have lots of different sections and tools on their blog didn't start blogging yesterday. They've been at this for years (usually).
They've put in a lot of hours, gradually added parts of their site, learned how to do things more efficiently, set up a lot of things that run themselves, and brought on people to help them with all the details that pertain to running their site.
So if you're a newer blogger, please don't let the seasoned bloggers intimidate you. Also, don't compare your blog to theirs or feel like you have to be doing exactly what they are doing if you have a shot at succeeding.
Pick the things you love and that work well for you and stick with those. Leave the other things be. Your blog will be just fine without them. And I guarantee you'll end up enjoying it a lot more, too!
2. You Don't Have to Do What the "Cool Kids" Do
Can I just say this? I sort of despise Pinterest.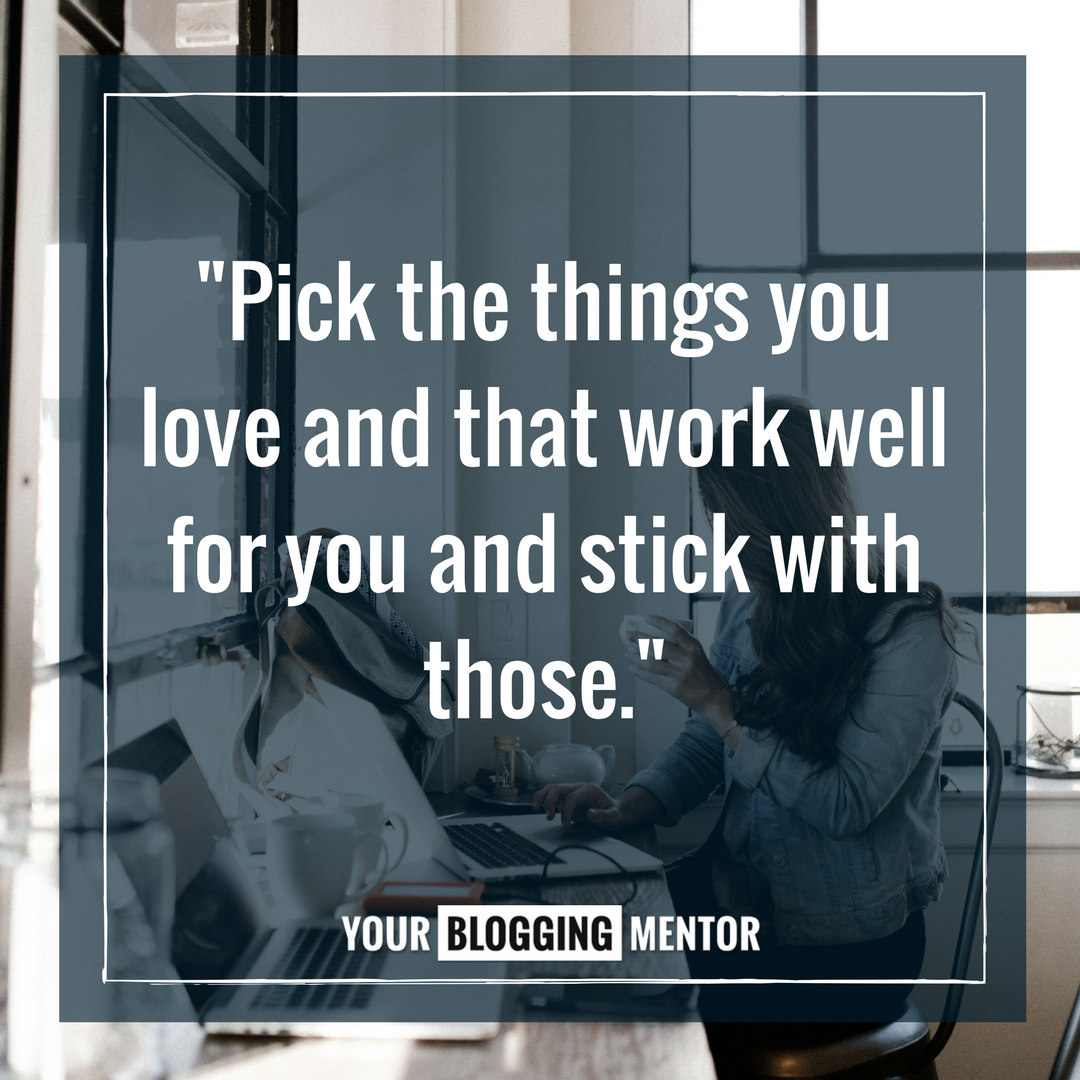 Back when I started blogging, I had a white background, a text header, and a free blog template on Blogger. My pictures — when I actually
posted them — were atrocious.
But here's the thing: nobody cared. I had thousands of readers on that plain white blog and they never complained.
Why? Because there wasn't this almost-impossible-to-reach standard set up where you had to have a snazzy blog design, magazine-worthy photos, and maybe even a graphic design degree in order to blog.
You just wrote because you were passionate about your subject matter. And people listened.
Now, don't get me wrong, I'm inspired by the mouthwatering photos and incredible ideas on Pinterest, but most of them are far beyond what I could accomplish myself. And that's okay.
It's perfectly acceptable to write about whatever I'm passionate about. To share less-than-perfect posts and photos. To not always get my posts up in a timely manner because real-life trumps blogging.
Instead of having a perfectly timed post with an amazingly-put together photo shoot, people seem happy to read about what's on my heart whenever it is that I get it posted. So I've stopped worrying about what the cool kids are doing and have just started being who God created me to be.
And I've been a whole lot happier that way!