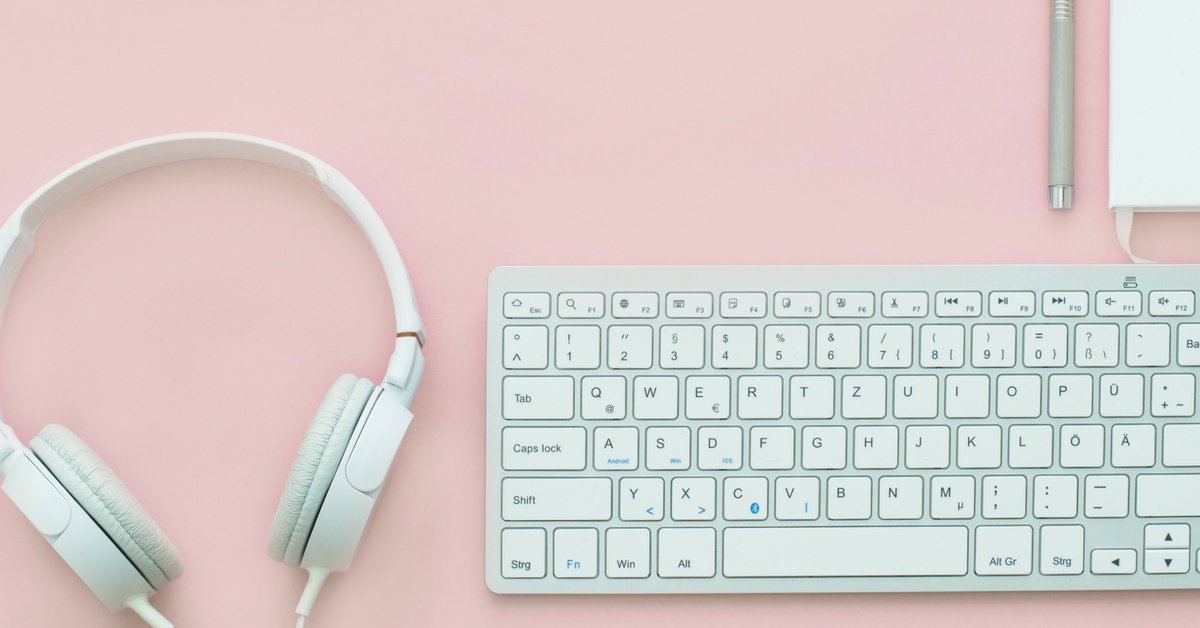 It's so easy to look around and get distracted by what all the "cool kids" in the blogosphere are doing. The more you pay attention to them, the more tempting it is to begin to think that you need to pattern your posts, your Instagram stories, your Pinterest images, and your blogging goals after them.
But I've learned a thing or two in the past 13+ years of blogging, and one of those is this: You should never do something just because all of the bigwig bloggers are doing it.
In fact, that's just a really good rule of life! Don't do something just because it seems like "everyone else" is doing it. 
What's Up With Lip Syncing?
Case in point: I recently began following a number of big names on Instagram. These are people that "everyone" is following and talking about on Instagram Stories.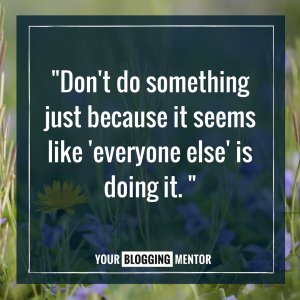 And I started seeing a trend with these Instagram "celebrities": Many of them were regularly posting lip syncing videos. You know the kind I'm talking about… where they turn on the music really loudly and then lip sync to it.
Most of these Instagrammers weren't just doing this occasionally, it was happening multiple times per week. And it wasn't just one video here and there; some of them were posting 2-4 15-second videos of lip syncing multiple times per week!
Now, I'm not really the dancer/singer type, but I just felt like this whole video-ing yourself lip syncing was weird, and I constantly found myself swiping through these stories really quickly because they didn't interest me.
The Results of My Unofficial Poll
It got me to thinking, though, is it just me? Maybe I'm the only person who doesn't like the whole lip syncing thing and most everyone else is into it. I mean, after all, these are the big dogs on Instagram and they should know what works.
I had no intentions of picking up a side gig doing lip syncing on Instagram, but I was genuinely curious, so I decided to poll my audience about it. I've done a lot of polls on Instagram before, but I've never had results like this on a poll!
91% of the thousands of people in my audience who took the poll said they didn't like lip syncing on Instagram!
That's the highest percentage difference in results I can ever remember having on any poll I've ever posted. In addition, I got message after message of people saying that they hate lip syncing and usually unfollow people who do it. I only received two messages from people who said they are okay with it sometimes.
What Is Best For You & Your Audience?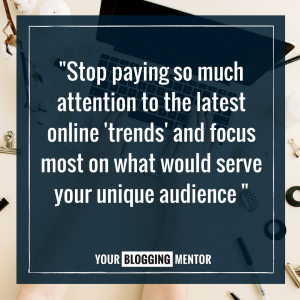 Now, my audience is different than other people's audiences. Maybe other audiences love lip syncing. I don't know. But I do know this: If I had gone along with what the "masses" were doing instead of listening to my gut, something like 91% of my audience would be turned off by it!
Let me be clear: This post is not about why you shouldn't post lip syncing videos. Instead, I'm writing this to challenge you to stop paying so much attention to the latest online "trends" and focus most on what would serve your unique audience.
Do what works best for you, your family, and your audience. You can learn from others and be inspired by others, but don't feel like you have to do something just because "everyone else is doing it" or because all the "well known internet people" are doing it.
What Value Does It Bring?
After I posted the lip syncing poll, one of my readers sent a message back with a great question, "What value does this bring to a person's Instagram story?"
I think this is vital question that we all need to be asking before we go live on Facebook or retweet something or press publish on our post or share an Instagram story. How does what we are about to share bring value to our audience?
Value comes in many different forms (and it could even be lip syncing, if that's your audience's jam!). You can bring value by:
Writing an inspirational post or posting an inspirational video.
Entertaining people and making them laugh.
Teaching people how to do something (a DIY project, recipe, etc.)
Asking a question that creates community and allows you to interact/engage with your audience.
Sharing an insider tip or something that will practically encourage your followers.
Being open and honest about struggles you're facing or real-life situations that will make your followers feel less alone.
Showing a peek into your life so that your readers get to know you better as a person (this fosters connection between you and your audience and if people connect with you, they will follow you wherever you take them!)
Stop focusing on what the bigwig bloggers are doing and instead focus on how you can serve and bring value to your own audience. Not only will you enjoy blogging so much more, but your audience will appreciate you bringing your own unique perspective and personality to what you share (and if they are all into lip syncing and that's your thing, go rock it out! Just know that I'll be swiping past that particular story! ;))