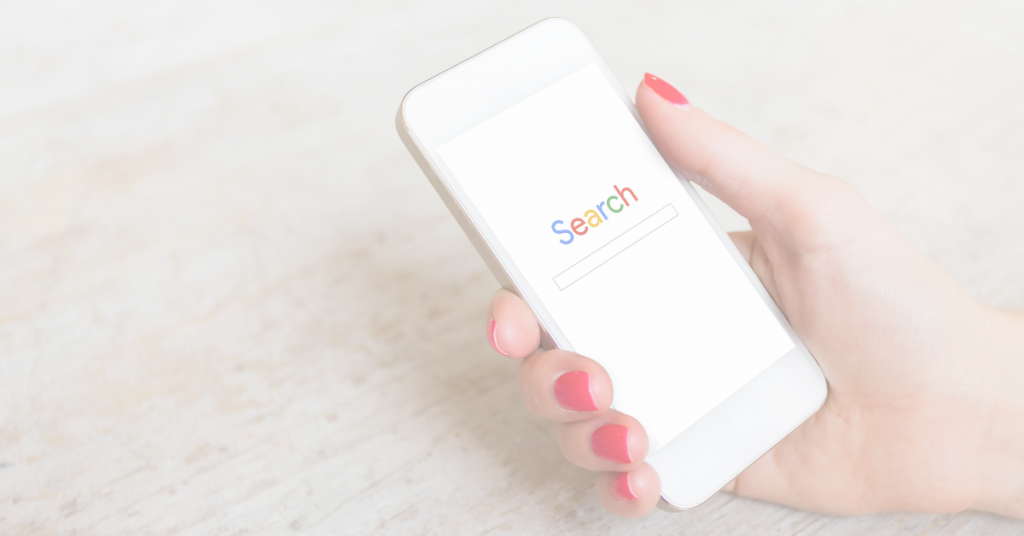 Guest post by Micah from HomeFaithFamily.com
I believe SEO is one of the most underused traffic tools for bloggers because of the overwhelm that occurs when trying to figure out what keywords to rank for.
But here's the thing — when you have so many incredible ideas and words of wisdom you want to share with the world, learning how to optimize your blog post with the correct keywords will carry your message even further!
Once you've demystified SEO and discovered what keywords your blog is already ranking for on Google, you can then venture into the world of finding popular keywords to rank for on Google.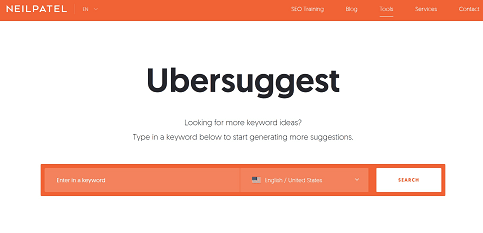 To do this, I recommend using a FREE keyword search tool called Ubersuggest. This is the only keyword search tool I use, because it's FREE and it's an incredible resource!
The Ubersuggest search tool was created by Neil Patel — a marketing and SEO guru who provides invaluable information about online marketing and ranking for keywords. This is his newest program and it really helps eliminate keyword search overwhelm when creating blog posts.
How to use Ubersuggest:
1. Decide what keywords you want to rank for.
Just like the blog posts you write, the keywords you want to rank for should always focus on your ideal reader.
Think about what problems your ideal reader would experience, what questions they would ask the Internet, what words they would use to search for an answer.
2. Search for those keywords in Ubersuggest.
For example, let's say you want to do a recipe post about your favorite frozen lemonade. Simply type the words "frozen lemonade" into the Ubersuggest search bar.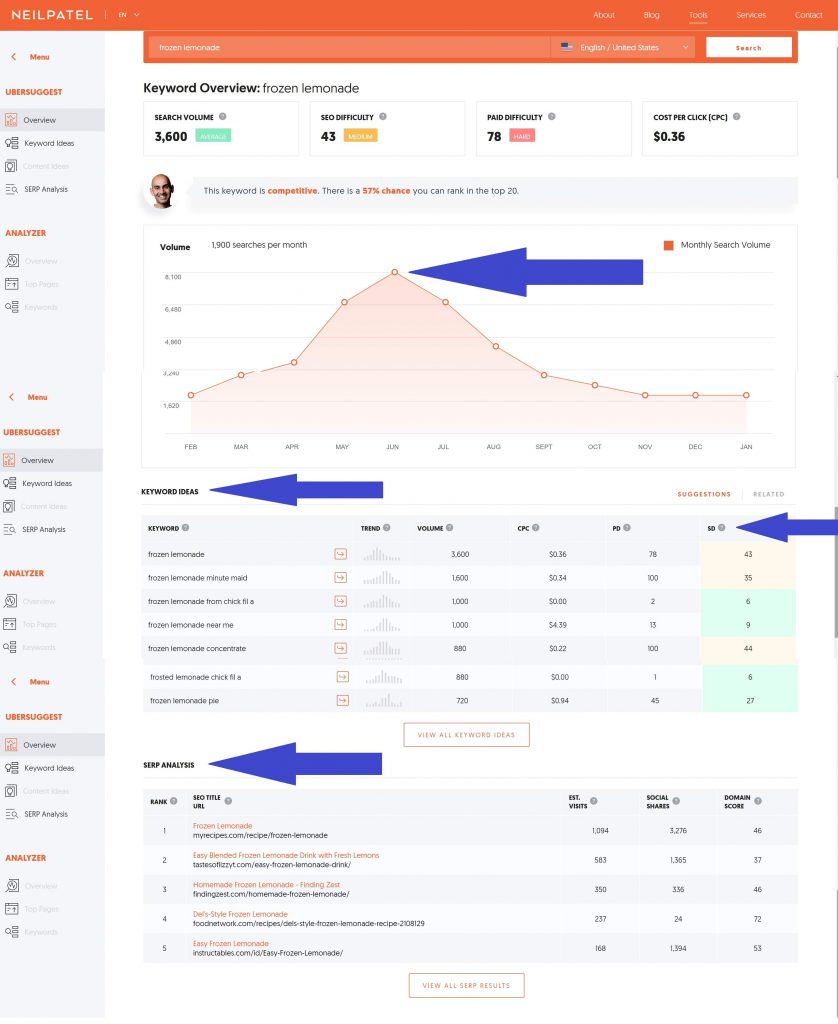 3. Look at the "keyword overview" stats.
There are three really important stats in the "keyword overview" section.
The monthly searches number tells you how popular that keyword is, since it tells you how often people are searching for it.
The SEO difficulty tells you the difficulty gage on ranking for that particular keyword. The higher the number, the more difficult and competitive your keyword is to rank for on Google. The lower the SEO difficulty score, the easier it is to rank in the top 20 Google search results.
The monthly search volume graph shows you the most popular times of year that your keyword is searched.
For the frozen lemonade example in the above photo, you'll see that this keyword averages 3,600 monthly searches with a 43 SEO difficulty. And it looks like "frozen lemonade" is searched for the most during the months of May, June, and July (with nearly 8,000 searches in each of those months!). That's great potential for traffic if you're trying to rank for this keyword.
When you're first starting your blog, you want to capture as many low competitive keywords as you can. This will help you build up your SEO juice on Google. For example, if you try ranking for a keyword such as "Valentine's Day gifts" with an SEO difficulty of 70, you won't see a great return on your investment.
4. Use the "keyword ideas" section to help optimize your blog post.
"Keyword ideas" are other words users are typing into Google to search for the perfect answer to their question.
These are words you want to include throughout your blog post in a very natural way.
Pay attention to the SD column in the "keyword ideas" section. The SD number tells you the estimated search competition for those specific keywords. Again, the lower the number, the easier it'll be to rank for those targeted keywords.
Aim to incorporate these low-competition keywords throughout your blog post.
Note: Be careful not to keyword stuff your post, because Google keeps an eye out for this and will punish your website for it.

Google wants to provide their users with the best, high-quality content possible. As long as you're creating quality posts where you use those keyword ideas in a natural, conversational manner, then Google will reward you with traffic!

(You can read more about keyword stuffing and how to avoid this practice here.)
5. Use the SERP Analysis to aim for the front page of Google search.
Ideally, you want to try to get on the front page of Google search — even more ideally, in the top 5 Google search results.
The SERP Analysis gives you the top 5 Google search results for your specific keywords.
If you want your blog post to rank in one of these top 5 spots, it's important to study those top blog posts and figure out what makes them so great.
I typically like to study the top 3 blog posts in the SERP Analysis and ask these questions:
How long is their blog post?
What are they doing that sets them apart from the competition?
How is their blog post formatted?
What questions are they answering for their reader?
These questions will hopefully help you see a pattern in these top 3 posts, and it will help you write a really amazing, quality blog post that gets you ranked on the front page of Google search results.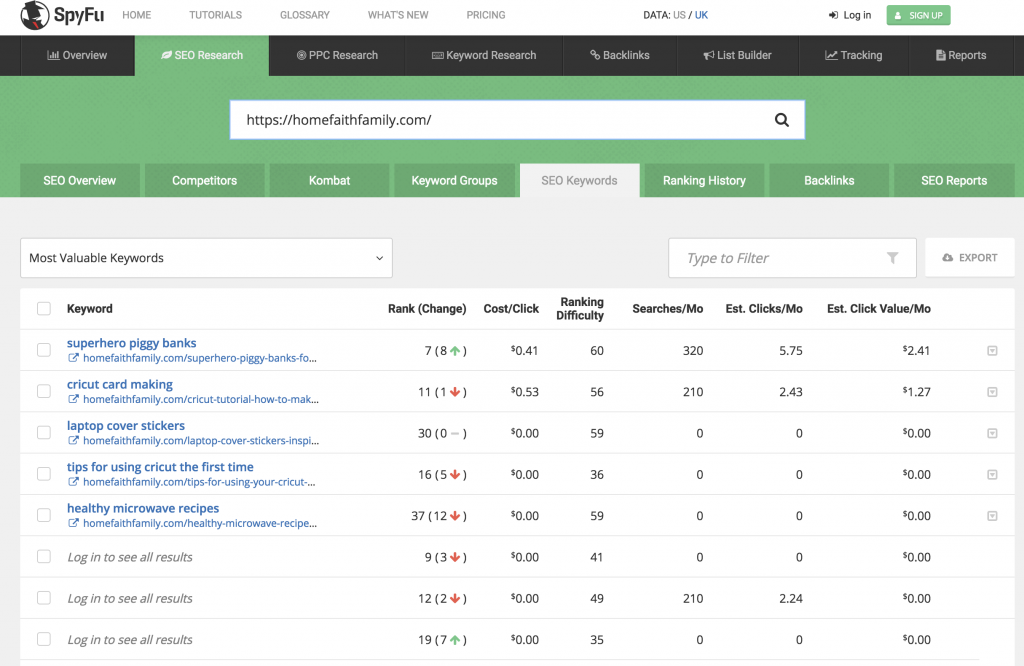 Not sure how to get started? Try this first!
If you're struggling on where to even start, what keywords to use, or how to get your creative juices flowing, I highly recommend trying the "reverse engineering" method.
For this method, I like to use SpyFu to research the top keywords that blogs in my similar niche are ranking for. (SpyFu is free to sign up for limited daily searches.)
When you search for a website on SpyFu, you don't see all of the keywords a site is currently ranking for. But you'll see enough to give you some great ideas for potential blog posts!
SpyFu also gives you their rank in Google, the level of difficulty for their top keywords, the estimated monthly searches for those keywords, and the estimated clicks per month that site is receiving.
In the photo above, you can see the top keywords results for my website, as an example. As you can see, I'm ranked on the first page for "superhero piggy banks."
How To Bring All This Information Together To Create The Perfect Blog Post
If you know the topic you'd like to write about, start researching your perfect keywords in Ubersuggest. In the beginning, optimize for keywords that have high monthly searches and low difficulty, so that you can show up in Google's search results faster. Be sure to study those top 3 posts that are already ranking for your keywords on Google.
If you're not sure what topic to write about, use SpyFu to get some inspiration from similar blogs in your niche and jumpstart your ideas. Then head over to Ubersuggest for more research on those keywords.
Ranking for popular keywords on Google is possible when you know how to optimize your next blog post. You have a message only you can bring uniquely to the world.
One of the best things you can do for your blogging business is to learn how to optimize your blog posts so that the right people find you.
What other SEO questions can I help answer for you? Let me know in the comments!