Have you ever had something frustrating happen with your business — something totally outside your control?
It can feel SO overwhelming when something goes wrong with your business. It's really easy to freak out, become paralyzed, and dwell on all of the what-ifs.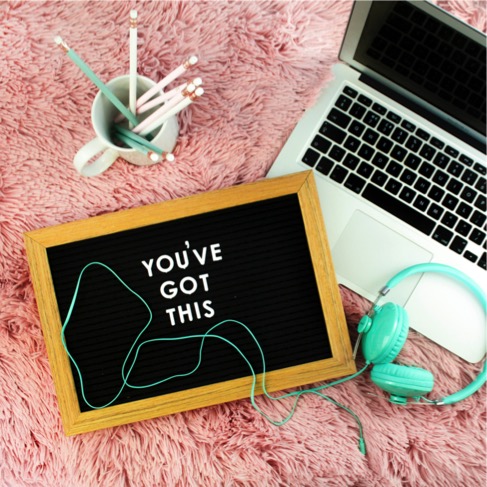 But here's the thing: freaking out won't help anything! It only makes things worse and prevents you from gaining forward momentum in your business.
So what do you do when something unexpectedly goes wrong with your business?
Last week, Pinterest decided to suspend our Pinterest account. We have 238,000 followers, millions of views, and thousands of visits from Pinterest each day.
Pinterest is a huge part of our business strategy and we've spent years building up our account, being intentional with strategy, and utilizing the platform to grow our audience.
And all of a sudden, our entire account was just…GONE. No account, no boards, no pins, nothing. When we tried to look at our Pinterest profile, it redirected us to their home page. It had just completely disappeared.
We received an e-mail that informed us we had violated their spam policies, we were suspended, and we could click on a link to appeal it.
We appealed the suspension, e-mailed in to their business/influencer support team, and then had to just wait and see what would happen.
So what do you do when something like this happens?
I have had things like this happen several times in my 14+ years of blogging:
When I first started blogging, Blogger decided to lock my blog down. I couldn't access it for 14 days.
Last year, Facebook decided to cancel our entire advertising account and not let us use Facebook ads at all — something that was a huge part of our strategy at the time. (They eventually re-instated it for us, but it took many emails and dialogue.)
I've had our entire Facebook page mess up and not be able to post on our business page for a full day or two.
We used to promote free eBooks on MoneySavingMom, and we made thousands of dollars per month simply from posting free eBooks and then people making purchases with the cookie from our affiliate link. One day, Amazon changed their affiliate policies out of the blue and said we could not longer promote free eBooks as frequently as we were.
I've experienced affiliate companies changing polices that drastically affected our income, never getting paid from affiliate companies, or companies going under completely and being owed thousands of dollars that we never receive.
This past year, we had checks bounce from one company and never received payment.
Just last week, we had an order form totally mess up and cause problems for dozens of people who were trying to register for my Mastermind group.
I'm here to tell you that this stuff happens all the time. And I used to freak out.
It's so easy to fall into freak out mode over the opportunity or money you're losing when unexpected things go wrong.
But here's what I've learned: Freaking out accomplishes nothing.
If you go crazy because you're upset or scared, that's not going to help anything at all. Freaking out never accomplishes anything that is positive.
So instead of freaking out, here's what I encourage you to do:
1. Take a deep breath.
Just breathe. Take a moment to breathe deeply, pause, and know that it's going to be okay.
2. Ask yourself, "What's the worst thing that can happen?"
In this situation with our Pinterest account, the worst thing that could have happened is that our account would be completely deleted and we'd have to start from scratch all over again, build up all those followers, redo all of our pins, and re-create our entire account.
One interesting thing that gave us hope was that our Pinterest traffic didn't tank! Because we've been so strategic with Pinterest, a lot of our pins were still on other people's boards and we were still getting lots of traffic — even though all of our pins on our account were gone.
3. Ask yourself, "Will I be okay if that happens?"
When our Pinterest account got deleted, I asked myself:
Will it cause a lot of extra work? Absolutely.
Will it be frustrating? Definitely.
Will it hurt our bottom line? For sure.
Will it hurt our traffic? Yes.
…But will I be okay? Yes.
I've learned to put things into perspective. And in the grand scheme of things, how much will something like this really matter?
Sure, it's frustrating, but there are so many worse things in life that could happen.
So just remind yourself that you will be okay if the worst case scenario happens — and most of the time the worst case scenario doesn't happen!
4. Take action and ask yourself, "What CAN I do?"
It's so easy to focus on what you can't do, what's frustrating, what's stressful, and what's going wrong.
But instead of focusing on the negative, I challenge you to put that energy into what you CAN do.
You can focus on your blessings and do what you can to resolve or improve the situation.
In our case with Pinterest, we researched and appealed the suspension. Then we put our heads down and focused on other work we had to do.
We were grateful that there were still thousands of our pins on Pinterest from other users' accounts.
We were grateful that our blog is still up and running.
We were grateful that we still have Instagram and Facebook accounts to utilize to our advantage.
We were grateful we still have our e-mail list — which we own and have control over.
So I challenge you…
Next time you're faced with a difficult situation and you want to freak out, try these steps.