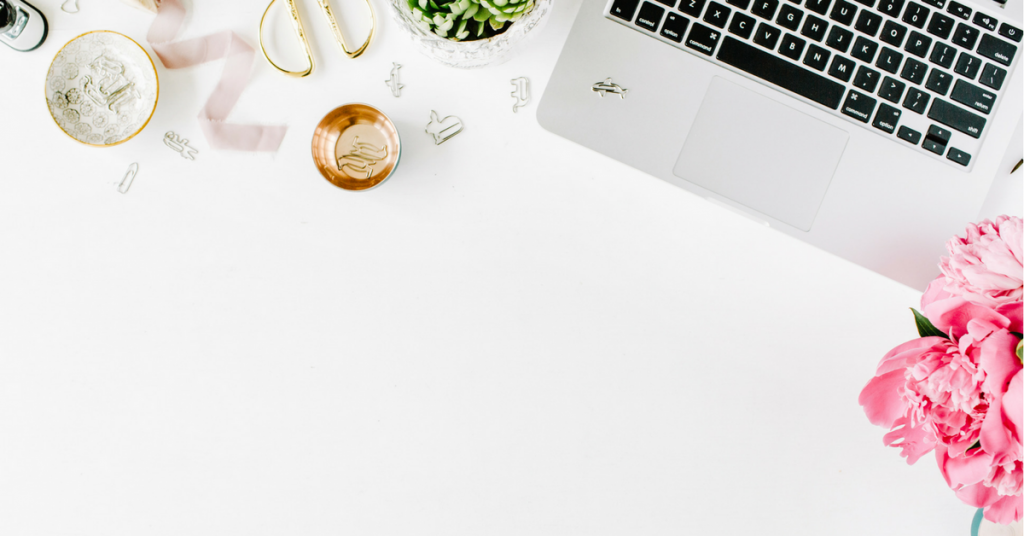 I believe that being strategic on social media is one of the best ways to grow your blog, your income, and your online presence. And in this current online climate, having a social media presence is a vital piece of your blogging success.
It's hard to remember what it was like without social media, however, when I first started blogging around 13 years ago, social media wasn't even a thing. Can you believe that??
I remember when Pages first came out on Facebook, and my husband encouraged me to set one up for my blog. I was skeptical of using that platform for my blog, because I didn't really know other bloggers using it and it seemed weird and self-serving. Plus, I didn't think it would even work.
But I'm so glad that I listened to my husband, because my Facebook Page took off quickly and ended up being one of our largest referral sources for the blog for years and years. In addition to Facebook, we also now have active profiles on Pinterest, Instagram, and Twitter.
So many people ask me how to be successful on social media and I wanted to share a few of my tips for getting started:
1. Start Slowly
Managing a lot of social media profiles for a blog can quickly become overwhelming. Instead of trying to start learning them all at once, I recommend keeping it simple.
Pace yourself — especially in the beginning — and choose to only post on one social media. I know it feels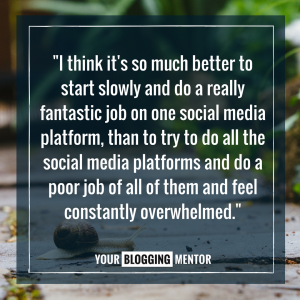 like doing so would go against all the "rules", but I think it's so much better to start slowly and do a really fantastic job on one social media platform, than to try to do all the social media platforms and do a poor job of all of them and feel constantly overwhelmed. 
(I DO recommend setting up profiles from the get-go so that you go ahead and get your names held on each of the social media platforms for if and when you decide to use them. I didn't do this on a few of the social media platforms with MoneySavingMom.com and I've forever regretted it when someone else snatched up my name before I did!)
2. Choose Wisely
Which social media platform should you start with? Well, I'd recommend choosing one of the top 4 social media platforms to begin with: Instagram, Facebook, Pinterest, or Twitter.
The only exception I would make to this would be if you already have a strong social media presence built somewhere else (such as YouTube). If that's the case, start where you already have a platform built and then build from there.
I'd ask yourself two questions when deciding which platform to start with: 1) Where would my ideal audience hang out? 2) What platform do I feel the most comfortable with?
Even though your ideal audience might hang out more on Facebook than on Instagram, if you feel most comfortable with Instagram and you know that some of your audience is there, I'd start where you feel most comfortable. Why? Because it will make it easier to start and get going. 🙂
3. Build Gradually
Once you have started posting on one social media platform and you feel really comfortable with posting there, if you have the margin and capacity to do so, it's time to consider adding another social media platform to the mix.
Take your time when adding new social media platforms. Really invest some energy into paying attention to which platform makes the most sense for your blog and learning what you think would work.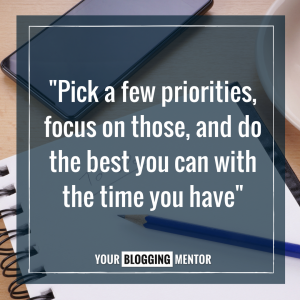 I encourage you to look at other bloggers in your niche and see where they are focusing the majority of their energy. See what type of engagement they are receiving on their posts to get an idea of where your ideal audience would hang out and where your posts would do the best.
Then, develop a simple game plan for how you will post on that new social media platform and what you'll do to learn more about the platform itself (take a course, follow 30 people who are successful and watch what they are doing, read a book on it, etc.).
4. Track Religiously
Install Google Analytics on your site and really start tracking what is working and what is not working. Look at which posts are bringing in the most traffic. Also, look at which posts aren't bringing in traffic.
In addition, watch your shares and engagement on social media for your individual posts. Which types of posts do best? Which ones seem to be duds? Why is that?
5. Experiment Regularly
As you track what is working, also challenge yourself to try a few new things. Maybe change up the way you post or when you post or what types of posts you're sharing or how often you post. Try your hand at video on Instagram or Facebook. Get brave and experiment with new things.
Also, be on the lookout for new things that others are doing that are working well for them. Don't copy others, but learn from their failures and successes and find ways to implement what you learn into experiments on your own social media platforms.
Don't ever get stuck in a rut… because that's a surefire way to kill your online momentum.
A Final Word of Advice

There are so many, many things you can do with social media. But remember this: There's no way you can do it all.

Set boundaries for how much time you can invest into social media. These boundaries will motivate you to make the best use of your time instead of getting sucked in the vortex of social media land with nothing to show for your time!

There are a lot of very smart people out there who will tell you that you must do all of these things to be successful. I disagree. Those things are probably great things, but it's better for you to pick a few priorities, focus on those, and do the best you can with the time you have.
What's your favorite social media platform? What's working well for you on social media right now? I'd love to hear!