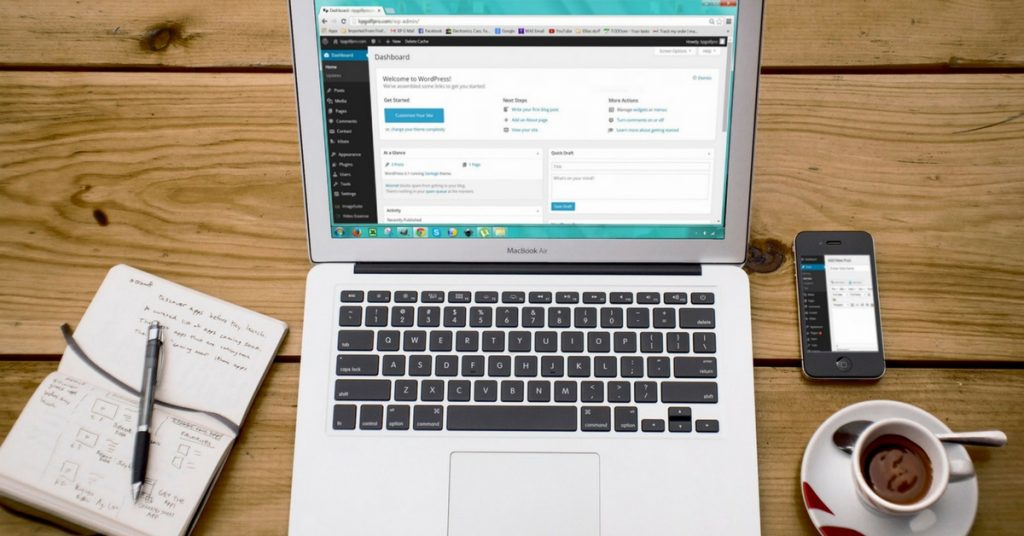 So many people want to make money blogging, but many people feel held back by fear or uncertainty. I have often been asked, "Is the market already saturated with bloggers?"
My response is always this: absolutely not! I believe there is always plenty of room for those who bring their own unique voice and experience to the table. Those who are really interested in putting themselves out there and sharing with the world have so much potential to make money through blogging. (New to blogging? Sign up for my 3 Steps to Start That Blog You've Been Dreaming Of webinar. It's FREE — just sign up here.)
Here are 2 ways you can get started making money through your content:
1. Sign Up For Adsense.
Adsense is an advertising network that offers sidebar ads you can place on the side of your blog and in your posts. Once you sign up for an account, you choose the size and color and details of how you want your ads to look, and then you get a piece of HTML code that you can put on your blog's sidebar and the ads will start running automatically.
You are then paid based off of the number of people who visit your website and click on different pages. For every 1,000 pageviews your website receives, you will be paid anywhere between $2 to $8.
This might not seem like much, but it can really add up over time. And, best of all, you just install the code once and then you don't ever have to mess with it again and you'll earn money for as long as people continue to visit your site! (Read more about Google Adsense here.)
A few things to note:
I wouldn't recommend signing up for Adsense when you are just beginning to blog because there's a good chance you won't be accepted because you are a newer blogger and don't have much content on your site.
Adsense serves ads based upon your blog content. If you blog on topics such as politics, religion, or hot button issues, the ads served up could directly contradict your message. I recommend Adsense for blogs that are on more practical topics such as food, organizing, homeschooling, DIY, saving money, etc.
You can block offensive ads or sites. For instance, we have sites like Victoria's Secret blocked on MoneySavingMom.com.
If you like Adsense, I'd also recommend signing up with Media.net. They offer related text link ads you can show on your sidebar or at the bottom of blog posts. We have them at the bottom of our most-viewed posts on MoneySavingMom.com.
2. Use Affiliate Links.
Affiliate marketing is one of the simplest and easiest ways to make money blogging and it's something you can start doing from the beginning! when you are paid to promote another person's product, coupon, deal, or website.
It's typically CPA (cost-per-action) advertising — which means that you only get paid per action. In other words, a reader must take some form of action (purchase something, click through your link and sign up for something, download a coupon or ebook, etc.)
You sign up for an affiliate program, such as: Commission Junction, ShareASale, CenterPoint Media, Amazon, etc.), you promote your unique affiliate link for a product that the company gives you, and then you are paid if your readers buy the item or signs up for the item.
You can promote these links through posts, through email newsletters, on your sidebar, and more. I think one of the best ways to promote affiliate links is through posts or emails where you talk about a product.
A few years ago, I wrote a really honest review about Stitch Fix and used my affiliate links in it. Even though I talked about how the service wasn't for me, I still make between $25-$75 a day from that post because the post gets a lot of traffic through people searching on Google for "Stitch Fix reviews".
The one time action of writing that post and promoting it on social media has resulted in literally thousands of dollars of revenue over the months since — and I've done nothing more to promote it except occasionally re-posting it on Facebook and Pinterest.
If you're serious about making money with affiliate marketing, I would HIGHLY recommend Kayla Aimee's Affiliate Acceleration course. It walks you step-by-step through the process of how to really effectively use affiliate links in a way that your readers will love.
A few things to note:
Per the Federal Trade Commission, you are required to clearly disclose on any post where you use affiliate links. This way, people know that you are profiting if they click through and sign up or make a purchase.
I don't recommend putting affiliate links only on your sidebar. I've found it to be much more effective to write a detailed post on your blog talking about the product/site and how it has benefited or impacted you.
Experiment with using affiliate links on social media. I've found that talking about products on Facebook Live and Instagram Stories can be highly effective when it comes to affiliate marketing.
Need some more advice and encouragement? Check out my post on How to Make Money Blogging and also sign up for my free blogging webinar where I talk more about how to monetize your blog.
Need some ideas on how to increase your blog traffic? Read some thoughts I shared on what to do when blog traffic is slow.
Have you monetized your blog at all? If so, I'd love to hear what has worked for you!
(Note: Some of the links in this post are affiliate links, and we will be compensated when you make a purchase or sign up for a service by clicking through our links. Thank you for helping to support this blog!)
Need More Affiliate Marketing Help?

Psst! If you're looking for some ideas on affiliate programs to try out, be sure to sign up for our FREE list of 20+ top affiliate programs perfect for beginner bloggers!