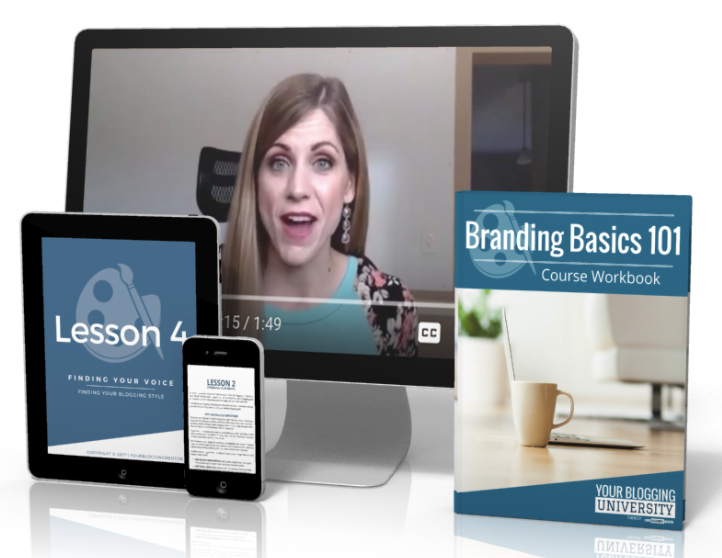 Our brand-new course, Branding Basics 101, is LIVE! Like all of our courses, we developed it so that even if you have very little technical experience or know-how, the video tutorials and hands-on lessons will empower you to actually go out and apply what you learn — right away!
Branding Basics 101 includes lessons and video tutorials to teach you how to:
Define your blogging goals and break them down into bite-sized, tangible pieces.
Discover who your target reader is and how to create a blog that caters to their needs
Establish your voice as a blogger and determine your blogging boundaries
Customize your blog's look using the WP Customizer and your theme's unique customizing options
Design your logo and some great free resources to make graphic design easy and affordable
Create branded social media images to help share your blog content and your brand with the masses
Decide your personal boundaries for blogging to protect your family's privacy
Guarantee that your blog is legally on the up and up, understand copyright and trademark, and avoid copyright infringement
How is This Course Different From Your Other Courses?
Someone asked me a few days ago if Branding Basics 101 was different than our other courses, Blog Start-Up 101 or WordPress 101. The answer is a resounding YES! It's entirely different and packed with brand-new material. 🙂 
It piggybacks off of the first two courses and assumes you already have your blog set up (which those courses teach you!). This course, is the next step after you have your blog set up and understand WordPress and is a vitally important teaches you the nuts and bolts of customizing it to make it more YOU and more effective.
Branding Basics 101 goes a lot deeper into finding your voice as a blogger, developing your brand, setting blogging goals in line with your why, creating graphics and images and a logo that is in line with your voice and brand, determine which social media you should invest your time into, determining blogging boundaries, protecting your family's privacy, copyright infringement.
It's a very holistic branding course — in that it covers not only the philosophical things behind setting up a successful brand, but also the very practical hands-on aspects of how to actually create the look and feel on your blog and the social media images that are in line with your brand!
Here's to putting more of YOU into your blog and brand!
P.S. We're offering a 7-Day Money Back Guarantee. So if you purchase this course and decide that it's not a fit for you, you can request a refund within 7 days and we'll happily refund your money — no questions asked! Purchase it here.