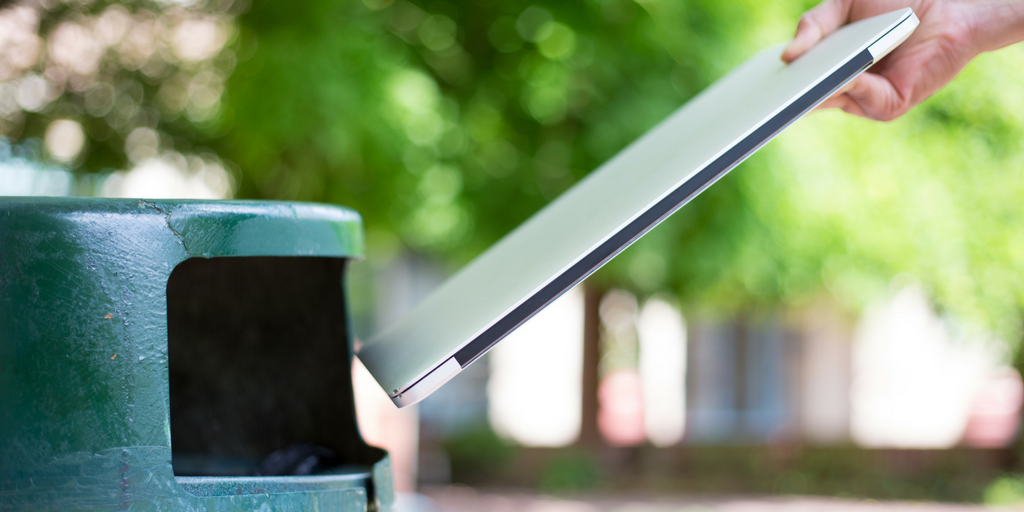 Ever feel like quitting your blog? Megan asked me a question about that recently:
I read your post about the three most important things to do after you start a blog, and I enjoyed it. I do have a question though that I've had for a long time, and was excited to see you were accepting questions! It's a question I have asked myself every day for the past 6 months: What do you do when you've tried everything the experts have said to do, it's still not working and you don't have any extra money to invest in any more courses, consultations, or books?

I've been blogging for over a year now. I have read article after article, changed ad placements, guest posted, added better pictures to posts, wrote personal posts, have done TV interviews, have reached out to other bloggers, constantly retweet other bloggers, share content from other bloggers, and have recently re-done my site.

I still struggle to get traffic and "conversions". I may have 98 views on a coupon deal post, and only 1 coupon print. Honestly, I'm exhausted. I feel like I wasn't "cut out" to be a blogger…only thing is, I love writing and always have. I'm at my wit's end. I've tried everything I have ever read to do and it just doesn't work…what am I supposed to do now?

I'm not sure if this is something everyone at some point has struggled with, or not. I just didn't think I would still be struggling after a year. -Megan
Can I just encourage you, Megan? I think all of us have felt this way at one time or another. Personally, I know that I've felt this way multiple times. In fact, I probably feel like quitting every few months.
I well remember my first few years of trying to start a business from home. I would put in hours and hours and hours of work and see very, very little fruit from that effort. Every time it felt like I was starting to gain a little momentum, I'd experience another setback.
It was probably at least two solid years of really pouring, pouring, and pouring myself into this online business and blogging thing before I really started to see true fruit and return on my investment. And then it was another few years before I got to the place where I was earning enough to convince myself it was time to bring on more help so that I could actually have breathing room in my life.
But I didn't just feel like quitting in the beginning; I still struggle with feeling like quitting now. Just in the past few months, I had some hard, hard things happen business-wise that were so discouraging there was a two-week stretch where I really, really wanted to quit.
I had invested a lot of money and time into multiple things that felt like they fell flat on their face, I was getting a boatload of critical comments and emails, I was discouraged and tired… and I wondered what I was even thinking doing this blogging thing. Should I just quit altogether? Was it even worth it?
I'm not trying to discourage you, I just want to be honest that sometimes, this owning your own business thing isn't all its cracked up to be. It's draining. It requires long hours. It involves a lot of setbacks. And it's easy to get discouraged.
In those moments when I want to throw in the towel, here are 4 questions I ask myself:
1) What is my "why"?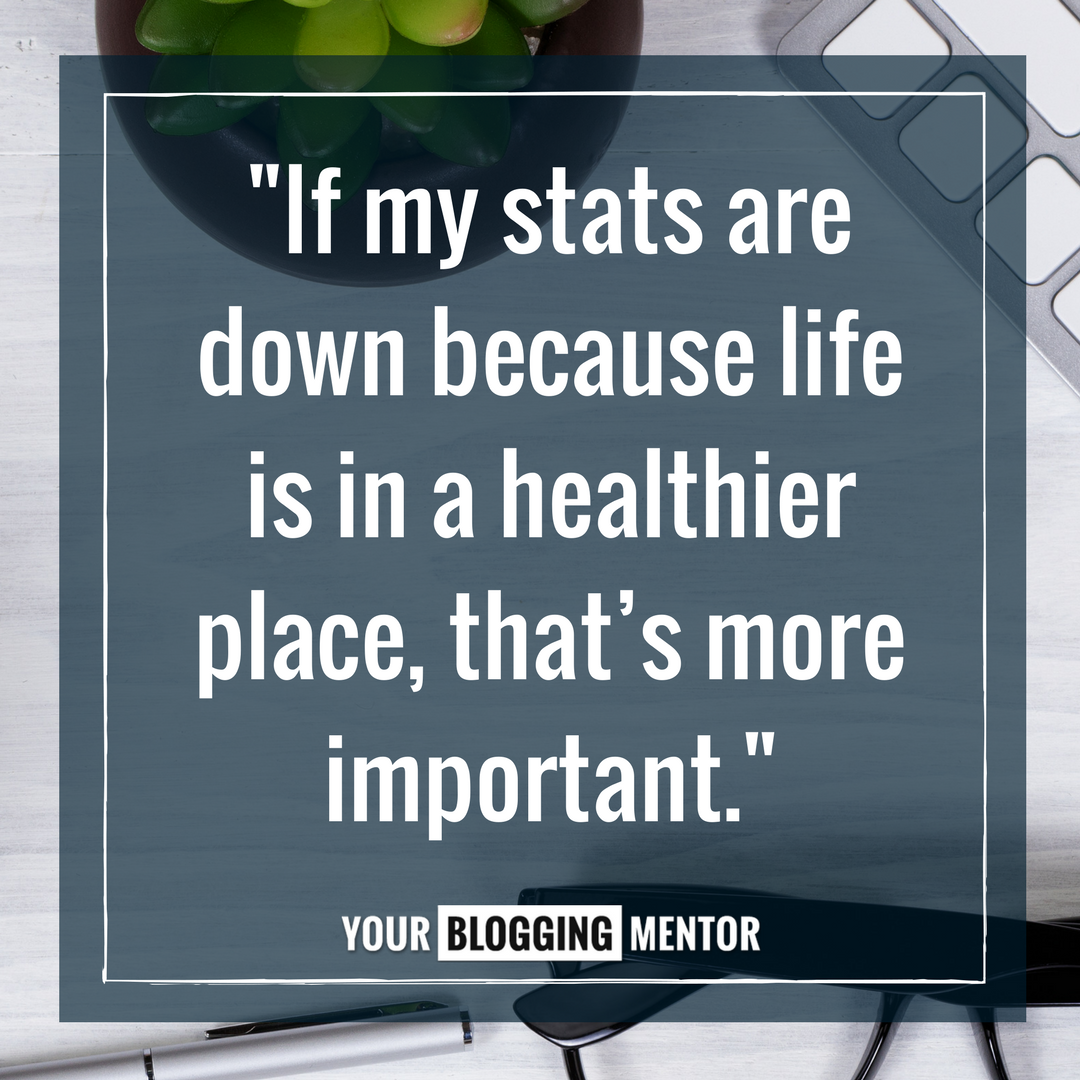 It's incredibly important to have a why for doing what you're doing. It can't be to make money — though it's totally wonderful if that's one of the results. It's got to be deeper than that, though.
What is the reason you started? What is your heartbeat behind what you're doing? What's your motivating force and passion?
Is it to help people save money? To inspire people to get their lives in better order? To bring hope? Is it to brighten someone's day or help someone have more purpose in their life?
Whatever it is, write that why down and refer to it often. Tell it to your closest friends and have them remind you of it when you are feeling like nothing you are doing is working.
2) Am I doing what I love?
So often, we think we know what we love. But until we actually dig in and do it for awhile, it's hard to really know.
I know many bloggers, including myself, thought we were really passionate about a subject or idea. But after months of writing about it over and over again, we lost that passion and spark.
You might love writing, but make sure that the subject you're writing on and the way you're writing about it is fueling you instead of completely draining you.
For me, I like to write different kinds of posts on a wide variety of topics. If I always wrote the same kinds of posts and they were all on a very small, niche topic, I'd burn out quickly.
Giving myself permission to not be chained down to only writing about a few narrow topics helps me stay inspired. It's allowed me to exercise new writing muscles, try new writing styles, and refine my writing voice better.
3) Am I trying to chase someone else's dream?
This is a hard one, but it's important. I've tried chasing someone else's dream before and it crashed and burned.
You see, when I had my first blog and was experimenting with monetizing that blog, I met a family who was making good money (something like $1400 per month) just by having ads on their sidebar.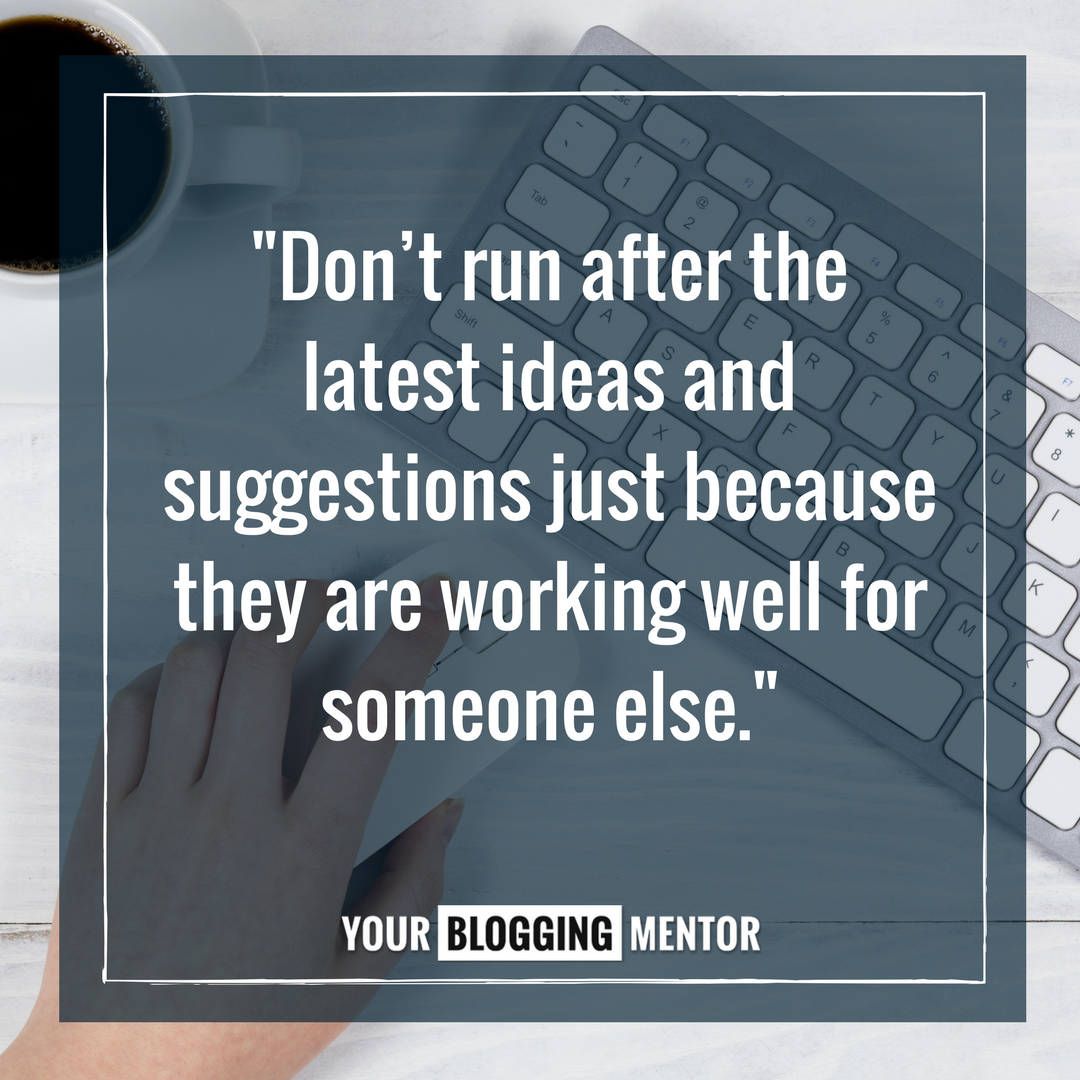 The topic of their site was something I thought I could write on and, since we really needed the money, I spent a lot of time setting up that site and preparing it to launch. I remember calculating in my head all the money I'd be making from it and how it was going to be such a financial blessing to our family.
There was just one problem: the site never gained any momentum at all. Instead, it fell flat on its face. Why? Because I was chasing someone else's dream.
Make sure that what you're pursuing is actually your dream, your ideas, and your passions. Don't run after the latest ideas and suggestions just because they are working well for someone else.
4) Am I seeing any upward momentum?
This is an important question to ask because it's easy to overlook the good that's happening and focus solely on the discouraging things… the lack of traffic, the drop in Facebook Likes, the fact that no one is retweeting our posts.
Are there good things happening, too, though? Maybe you're seeing a slight increase in click-throughs from Pinterest, or some growth in your Facebook Page followers, or you've gotten a comment or two this past month.
Look for those positive things, those increases, those upward trends and make sure that you remind yourself of those when you want to be discouraged about other areas that are standing still or decreasing.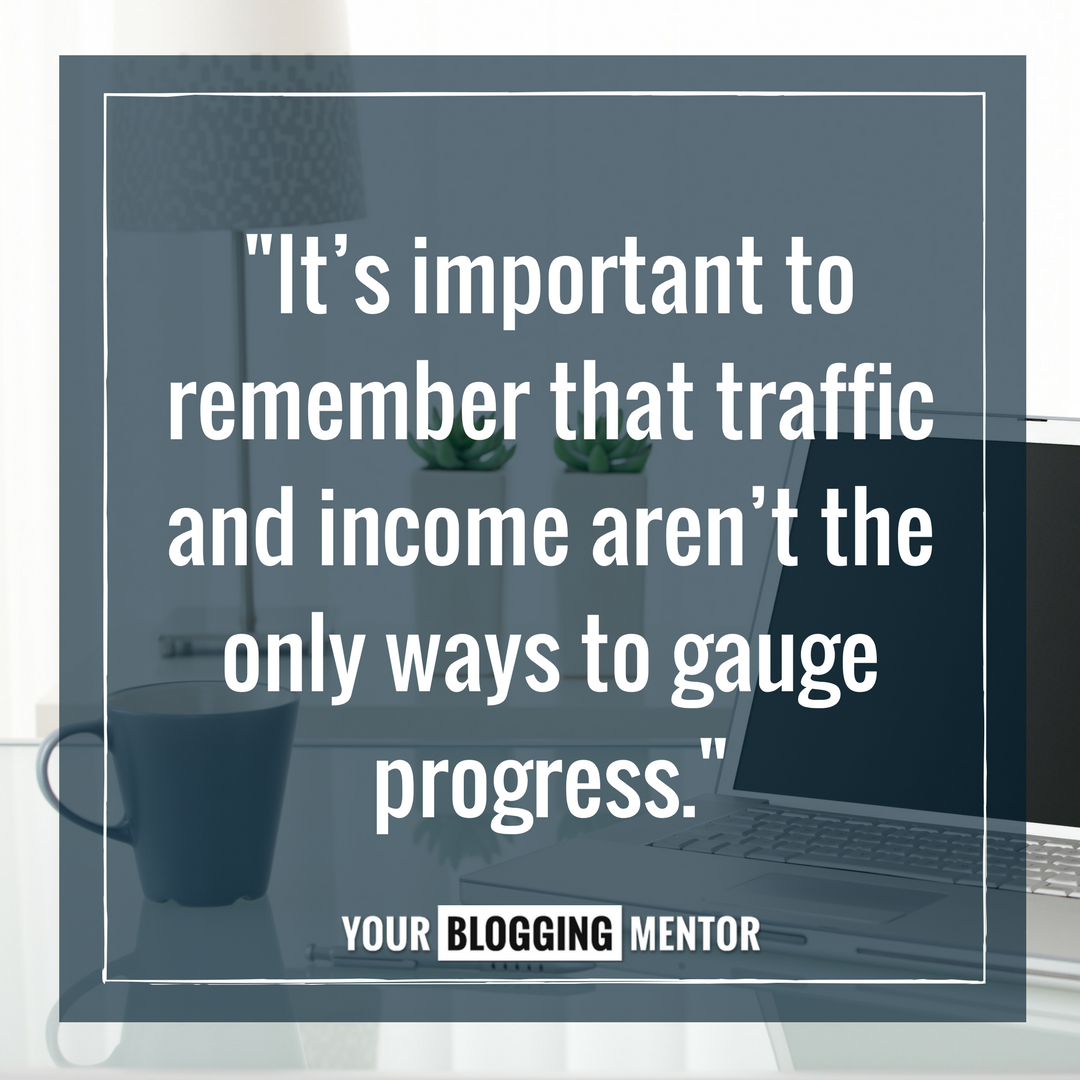 It's also important to remember that there are ebbs and flows in blogging — and in any business.
Even now, we sometimes have months when we bring very little home because all of the income is invested back into the business or into paying business expenses. When those low income months come or when traffic tanks, it's easy to start getting nervous or stressed.
I have to remind myself that peaks and valleys are all part of running a business. And this is also why it's important to have a good emergency fund in place for the business and to set aside the bulk of the extra income during those peak months to help offset the valley months.
In addition, it's important to remember that traffic and income aren't the only ways to gauge progress. If I've learned and
grown individually, if my marriage has been strengthened, if I've had the opportunity to encourage and bless someone through my blog, if I've chosen to be offline in order to invest in people… if my stats are down because life is in a healthier place, that's more important.
In addition to asking yourself those 4 questions, I'd suggest possibly considering doing one or all of these four things:
Take a break — Sometimes, stepping away from the thing that's draining us can be the best thing to help us clear our heads and have better perspective. Consider taking a few days off from blogging to see if you have any clarity and direction by doing so.
Try something different — Try vlogging or blogging less or only posting on topics as you're inspired or posting fewer deals and more content pieces. Change things up and see if that gives you fresh inspiration — or maybe even increased engagement on your blog.
Stop paying attention to the noise and stats — I really encourage you to set boundaries on how often you check your stats. In fact, if they are discouraging you, it might be wise to just completely stop checking them for a period of time. That sounds drastic, but I've found it to be a good thing if I'm becoming too focused on stats.
Remember what really matters — What's going to matter most in 25 years from now? Make sure that you are intentionally investing time and energy each day into those things.
What advice, suggestions, and encouragement do the rest of you have for Megan?