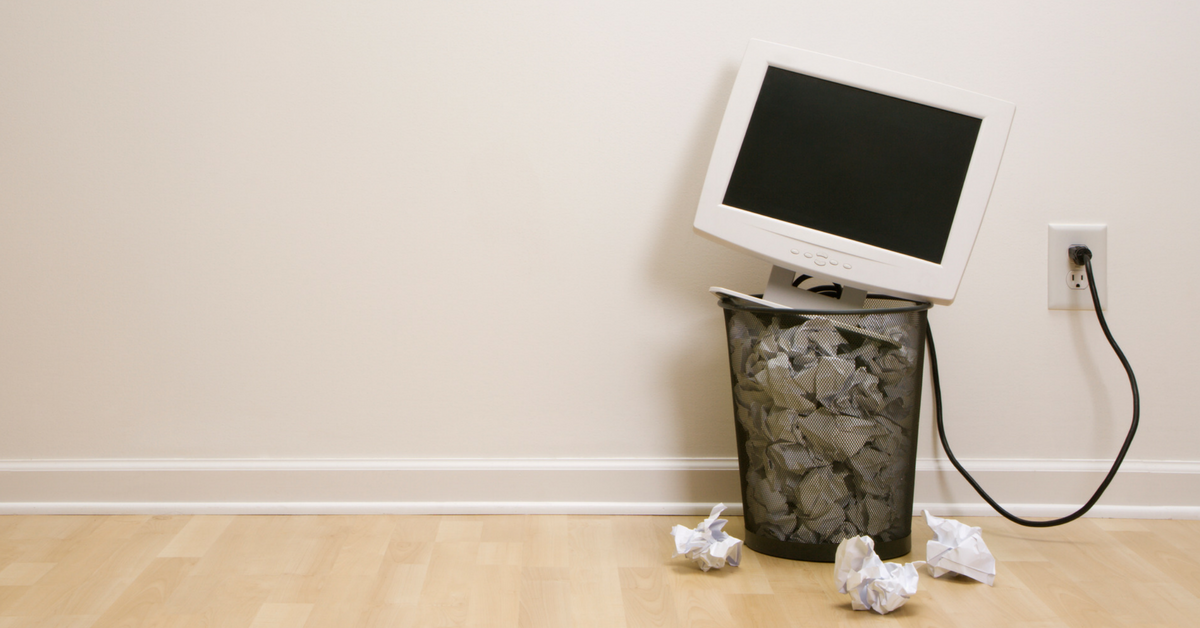 Not too long ago, I recorded a Facebook Live video making Whole-Wheat Chocolate Chip Pancakes — and it was a near disaster.
Now let me say this: There are so many wonderful things about Facebook Live and live video. It allows you to connect with your audience at a much deeper level. It allows you to share things in a more personal and authentic way.
But the whole deal about it being a Facebook Live means that it's really and truly that — it's LIVE. There's no taking it back. Which is one of the upsides and downsides to it! 🙂 Yes, you can always delete it afterwards, but you can't erase what people who saw you live saw.
Despite that, I'm a huge fan of Facebook Live and have seen phenomenal growth and increased engagement as a result of doing live video. And I think there's so much potential for people to really see success through it.
But it is a risk and with all risks, they will sometimes fail in a big way. As happened to me with the recent pancake video.
For those of you who are new to Facebook Live, one thing that's a little hard to get used to is that when you have your screen toward you so you can see what your video looks like, Facebook mirrors the video image during live recordings.*
So if you have your phone screen turned toward you while you're recording, everything is flipped to your audience — meaning if you're holding up a bag of flour that says "Whole-Wheat Flour" on it, it's going to be backwards, etc. This can be quite distracting when you're doing a video involving a recipe where you're holding up different bags/boxes/containers of ingredients.
Because I was going to be making a recipe and I was planning to create a YouTube video of the recipe, I got the "brilliant" idea to try turning my camera around so that the screen wasn't facing me.
This way, the video wouldn't be a mirror image and the words on the different ingredients I'd be holding up wouldn't be backwards to my audience.
I set everything up and thought it would work well. But since I wouldn't be able to see myself on the live video, I didn't really know for sure.
Ahem.
Well, after the video was over with, I discovered that I clearly think I'm much shorter than I am because how I had my camera set up, it meant that my head was completely cut off the entire time!!!
Yes, for real.
Just imagine a live video of someone talking and sharing how to make a recipe where you could only see half of the person — and it wasn't the half with her head! 🙂
(If you need to laugh today, go fast-forward through the video so you can see just how awful it was. You can find it here.)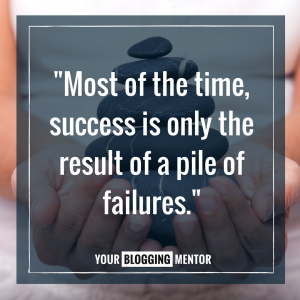 One thing I've learned over and over again in my 12 years of blogging is this: We all make mistakes when we put ourselves out there. Not everything turns into this amazing success. In fact, most of the time, success is only the result of a pile of failures.
If you've made a mistake recently that you're feeling really embarrassed by or frustrated about, be encouraged: Bloggers and vloggers who have been at this thing for years and years and years still have plenty of "Well, that experiment certainly didn't work!" moments!
So what should you do when you bomb something so badly that it's laughable? Here are three things I did and would encourage you to do when you make a mistake as a blogger:
1. Don't Freak Out
After I realized what I had done in cutting off my head on the pancake video, I momentarily panicked and I briefly considered pulling down the video. Because yes, I was embarrassed at how awful it was.
But then I realized that you can still watch me make the recipe — even though my head is cut off — and I was able to salvage some of the footage for a YouTube video.
If I were selling this as a video product, of course I'd re-do it. But in this case, I decided to leave it be.
The bottom is line: I tried something new (having the camera a different way) and it didn't work out like I thought it would. That's okay. It's not the end of the world. It's not even worth freaking out or beating myself up over.
You aren't going to hit home runs every time. In fact, you aren't going to hit home runs most of the time!The not-so-great days make the great days even better!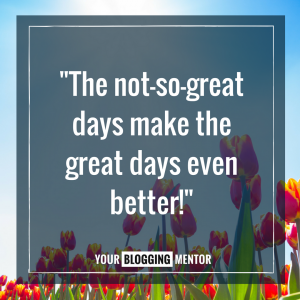 2. Laugh at Yourself
I've learned that the best thing I can do when I goof up like this is to laugh at myself and invite others to laugh along with me! So, the next time you make a mistake, once you've recovered from your embarrassment, share the story with a trusted friend, and enjoy laughing at it together.
Because I don't mind poking fun at myself, I shared about this post online and encouraged other people to watch and laugh because it really was comical. And I told my local friends about it, too, because I knew they'd get a kick out of it. 😉
(Note: If you've made a mistake that is not just a goof up, but something where you've actually hurt someone else or said or posted something you later regret, please know I'm not suggesting you just laugh that off and move on. When I've done something that has been offensive or posted words I've regretted, I've needed to own them and apologize for them.)
3. Learn From It
Failure is an opportunity to try again in a different way. So after you've calmed down and laughed about it, ask yourself, "What can I learn from this so I can do a better job next time?"
When you know better, you can do better. Unfortunately, sometimes the only way to really know better is to bomb a project.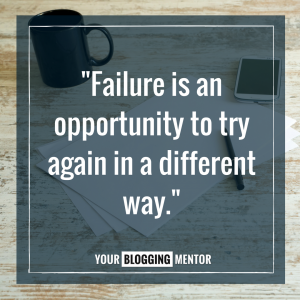 For me, I'm going to make sure I double-check my camera before going live. I'm also probably not going to try doing a live video again with the camera turned where I can't see things as people are seeing them live. And I recently invested in an actual vlogging camera so I can make cooking and baking videos for YouTube, without having to deal with the mirror screen issue.
The next time you make a mistake, instead of freaking out, beating yourself up over it, and feeling like an idiot, I encourage you to laugh at yourself, learn from it, and move along. And know that I'm right there with you making mistakes and learning from them, too!
*Update: Check out the comment from Danielle on a recent Facebook update (or one that I just got on my account so hopefully you have it on your account now, too!) that allows you to flip your camera so you no longer have the mirror image thing going on!